ABMS board certification carries the learning milestones of residency and fellowship into the professional competencies that medical specialists cultivate throughout their careers
An Important Credential for New and Practicing Specialists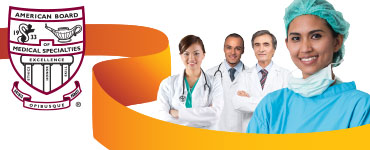 Board certification signifies how specialists are aiming higher to advance their knowledge, judgment, and skills while remaining committed to professionalism, practice enhancement, and better patient care. Find out how ABMS supports physicians and the credential.
Research and Leadership for Early-career Professionals
ABMS Visiting Scholars Program™ helps early-career physicians and researchers build important skills to advance their research, develop into leaders, and shape their career paths. Learn about research priorities, applying, and program impact. Sign up for a free webinar, April 19.
Quality and Safety Improvement for Specialists in Practice
ABMS Portfolio Program™ promotes safety and efficiency and offers continuing certification credit for quality improvement work relevant to specialists, their patients, and their organization. Learn about program benefits, organization sponsors, and success stories.
Learn About Board Certification
Companion publications ABMS Guide to Medical Specialties and ABMS Board Certification Report provide an overview of board certification, descriptions of the 40 specialty and 88 subspecialty certifications offered by the 24 ABMS Member Boards, and current demographics and trends.
Save the Date: ABMS Conference
Save the date for ABMS Conference, the premier board certification conference focused on assessment and evaluation, credentialing, data sharing and informatics, health policy, research, medical education, professional regulation, and health care quality and safety.
Stay Connected with ABMS
ABMS Insights is a free quarterly newsletter covering the activities of ABMS and its 24 certifying Member Boards. Visit the ABMS News section for the latest news and events. Check out the ABMS YouTube channel to hear more about board certification programming and impact.