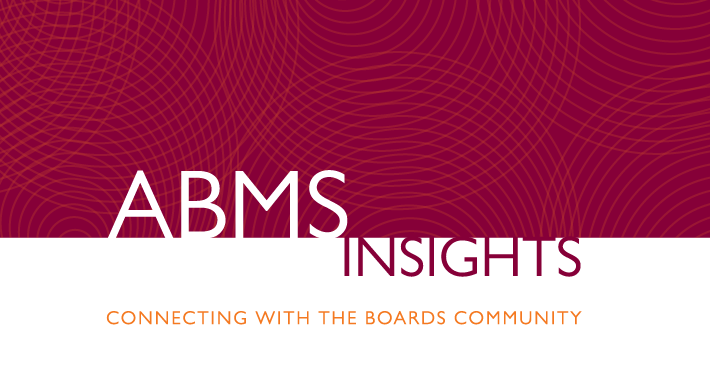 Each of the American Board of Medical Specialties (ABMS) Member Boards is expected to develop and implement its own Policy on Professionalism tailored to the clinical context of its specialties and subspecialties.
ABMS defines medical professionalism as "a belief system in which group members ("professionals") declare ("profess") to each other and the public the shared competency standards and ethical values they promise to uphold in their work and what the public and individual patients can and should expect from medical professionals." Following are examples of Member Boards that have recently updated their professionalism policies.
The American Board of Dermatology (ABD) Board of Directors (BOD) approved a new Professionalism Policy[PDF] this past June after incorporating feedback from board certified dermatologists (also known as diplomates). Nearly 2,000 ABD diplomates provided feedback on the draft Professionalism Policy via an anonymous survey. Of those, 77 percent approved of the policy as written or with minor revisions. Most frequently, diplomates raised concerns about policy items as being either vague or redundant. Policy items addressing diversity, equity, and inclusion as well as professional conduct, received the most comments. After reviewing and incorporating diplomates' comments, the ABD BOD unanimously approved the updated version of the policy. Read more about diplomate feedback.
The American Board of Emergency Medicine (ABEM) recently established a Code of Professionalism that requires diplomates to "Refrain from conduct that the Board determines, in its sole judgment, to be sufficiently egregious that it is inconsistent with ethical behavior by a physician."
The American Board of Family Medicine (ABFM) first established formal professionalism guidelines in 2012, which have guided the decisions on diplomate cases since that time. More recently, ABFM completed a major revision of its Guidelines for Professionalism, Licensure, and Personal Conduct in 2021, after more than a year of study regarding the landscape of medical professionalism and reflection on nearly a decade of experience with the board's existing guidelines. The new guidelines provide enhanced clarity about ABFM's expectations for professionalism; include a new section on Special Circumstances that the BOD's Professionalism Committee can refer to as they balance their commitment to both diplomates and the public; define behaviors of concern related to professionalism that do not involve license actions; and describe the pathways back to certification for anyone who has violated the professionalism guidelines.
The recently approved ABMS Policy on Professional Conduct is intended to augment the Member Boards' professionalism policies and provide further guidance to preserve the trustworthiness of the credential.