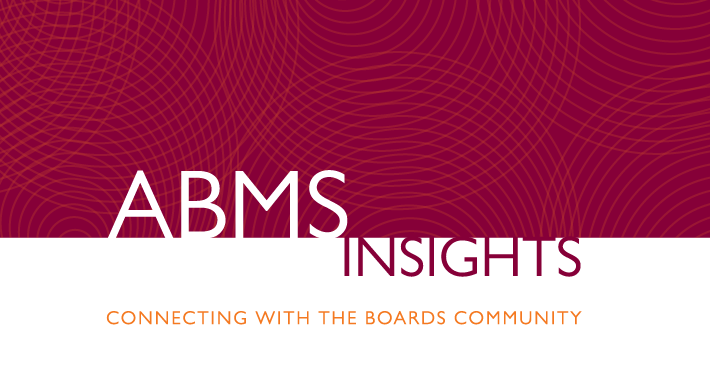 Eases administrative burden, expands physician engagement
The American Board of Medical Specialties Portfolio ProgramTM (ABMS Portfolio Program) recently announced revised requirements that will reduce administrative burden and expand physician engagement.
The ABMS Portfolio Program works with a growing community of health care organizations to connect their quality and safety goals with the requirements and aims of continuing certification. Organizations approved as Portfolio Program Sponsors help their physicians earn continuing certification credit from an ABMS Member Board for efforts made in their daily work to advance patient care. A parallel program helps physician assistants receive credit from the National Commission on Certification of Physician Assistants.
Based on feedback from Sponsors, ABMS Member Board Executives, and other program stakeholders, the revised requirements address the following:
Meaningful Participation: Revisions define meaningful participation as requiring diplomates to attest to meeting six key criteria.
Credit for diplomates in quality improvement/patient safety roles: Revisions recognize that some diplomates may meet meaningful participation criteria through their ongoing leadership roles in improving health care delivery processes or outcomes within their institutions.
Improvement Cycles/Outcome Measurement: Revisions highlight that only one cycle of data collection is required following the implementation of an intervention. Should improvement not occur, diplomates must reflect on why no improvement occurred.
Education as an intervention: Revisions allow for education — non-accredited and accredited by the Accreditation Council for Continuing Medical Education (ACCME) — to serve as an intervention. ACCME-accredited activities receiving commercial support are deemed acceptable if compliant with the current ACCME Standards for Commercial Support (adherence with which must be documented by Sponsors).
These changes have been implemented to offer greater flexibility and allow for increased innovation by Sponsors. By encouraging a wide door philosophy, the program continues to emphasize the importance of improvement work in which diplomates are already engaged.
---
© 2020, American Board of Medical Specialties
Read the Latest Issue of the ABMS Insights Newsletter