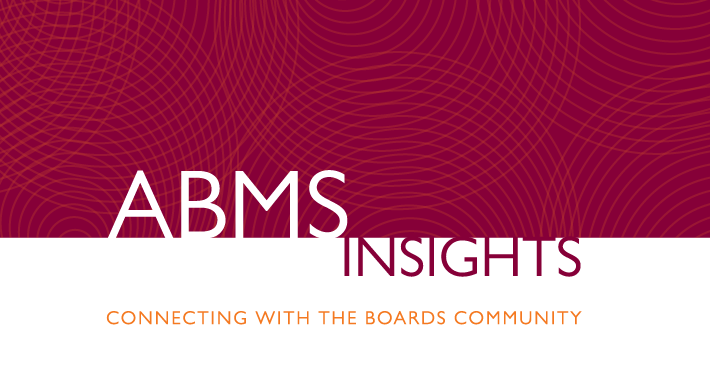 The transition to new, formative approaches to the assessment of knowledge and clinical judgment has created unique opportunities for the American Board of Medical Specialties (ABMS) Member Boards and specialty societies to work together to design a future continuing board certification program that is relevant and valuable to all stakeholders, especially board certified physicians and the patients they serve. Many of the 24 Member Boards collaborate with specialty societies to develop continuing certification and/or continuing medical education (CME) activities through which physicians can satisfy Maintenance of Certification (MOC) requirements.
More recently, boards are finding other ways to join forces with societies to develop alternatives to the 10-year exam for board certified physicians who wish to maintain their certification. These alternative approaches are more convenient, practice-relevant, and supportive of physician learning. One example is certification pathways.
This year, the American Board of Internal Medicine (ABIM) rolled out its first Collaborative Maintenance Pathway (CMP) addressing Cardiovascular Disease through a partnership with the American College of Cardiology (ACC). The CMP uses the ACC's Adult Clinical Cardiology Self-Assessment Program (ACCSAP), a five-year, self-paced learning platform that has been supplemented with an annual performance assessment to demonstrate that learning objectives have been mastered. The 2019 ACCSAP performance assessment focuses on Arrhythmias. CMPs in Clinical Cardiac Electrophysiology, Interventional Cardiology, Advanced Heart Failure, and Transplant Cardiology are expected to be made available in 2020. Read more.
Also beginning in 2020, oncologists will be able to choose a CMP developed through a partnership between ABIM and the American Society of Clinical Oncology. The CMP is a shorter assessment taken every two years that will allow physicians to choose from the specific topic areas of Breast Cancer, Hematologic Malignancies, and General Oncology in 2020 with core oncology topics included as a portion of the assessments. Additional topics are planned in 2022. Read more.
Development of the CMPs will move forward in parallel with ABIM's recent announcement that it will evolve its MOC program to provide a longitudinal assessment option. Board certified physicians will still have the option of taking the traditional 10-year MOC assessment and the Knowledge Check-In (when applicable) as options to maintain board certification. ABIM will continue to set performance standards and issue certifications, and its current MOC program requirements will remain in place.
The American Board of Obstetrics and Gynecology (ABOG) works with the American College of Obstetricians and Gynecologists (ACOG) on its article-based assessment known as the Performance Pathway. ABOG's Committees and Divisions, made up of subject matter experts in the obstetrics-gynecology specialty and four subspecialties, review and select articles that showcase new studies, practice guidelines, recommendations, and up-to-date reviews. A substantial portion of the selected articles are available online in ACOG's Obstetrics & Gynecology (also referred to as The Green Journal). ACOG also offers AMA PRA Category 1 Credit™ to its members for completing ABOG's annual lifelong learning and self-assessment assignments that focus on maintaining knowledge of new and important changes in obstetrics, gynecology, and women's health care.
Longitudinal assessments come with their own set of opportunities. The American Board of Plastic Surgery (ABPS), which launched its longitudinal assessment earlier this year, is working with specialty societies to consider the knowledge gaps identified during the development of new educational activities. The societies also are providing board certified plastic surgeons with additional reading/educational material related to ABPS' assessment. The American College of Medical Genetics and Genomics will be providing CME credit for participation in the American Board of Medical Genetics and Genomics' CertLink® longitudinal assessment.
© 2019, American Board of Medical Specialties.
Read the Latest Issue of the ABMS Insights Newsletter