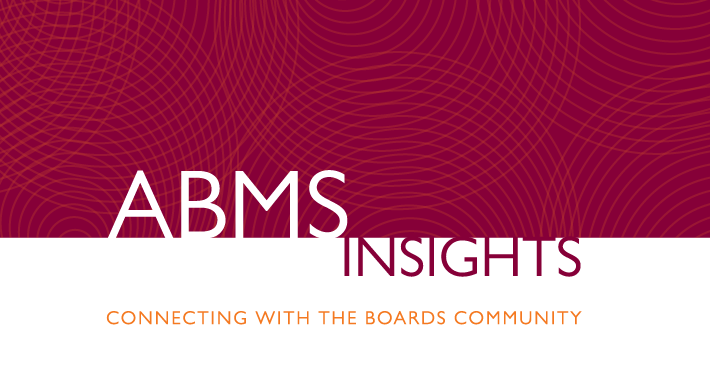 The American Board of Medical Specialties Member Boards are engaging with professional and specialty societies in new and exciting ways that have a significant impact on their specialty.
Earlier this year, the American Board of Preventive Medicine (ABPM) worked with the American Society of Addiction Medicine to expand eligibility requirements for subspecialty certification in Addiction Medicine. The expanded pathway will help grow the addiction medicine workforce at a time when the treatment of opioid addiction is a national public health crisis and there is a significant shortage of qualified addiction specialists. ABPM also has partnered with various specialty societies to create Improvement in Medical Practice (IMP) activities specific to certain specialties or subspecialties, such as Public Health and General Preventive Medicine, for continuing certification credit. This expands the opportunities for physicians who are not primarily involved in direct patient care to complete relevant IMP activities in their work setting as many ABPM certified physicians have roles in administration, research, and teaching.
The American Board of Family Medicine (ABFM) closely aligns with numerous specialty societies, particularly the American Academy of Family Physicians (AAFP) as the majority of physicians who are board certified by ABFM are AAFP members. Like many Member Boards, ABFM regularly shares certification and continuing medical education (CME) information as it relates to quality reporting requirements with AAFP to reduce the burden of reporting for family physicians. For AAFP members participating in ABFM's PRIME Registry, the board shares aggregate measures data with AAFP to determine if customized CME offerings can be linked to measures to address the continuing professional development needs of AAFP members. ABFM also makes available reports containing useful state-level aggregate data collected in the certification process to AAFP state chapters to help assist in their development of local solutions to address the needs of members, legislators, and patients.
ABFM also supports societies' efforts focused on the next generation of family physicians. ABFM engages with AAFP on research of importance to the specialty and profession as well as provides support for scholars in residence. The board has supported a Society of Teachers of Family Medicine initiative to improve faculty development and engage community physicians in teaching of medical students. ABFM has collaborated with the Association of Departments of Family Medicine to approve a Residency Research Pathway for residents at the eligible participating sites. The board has worked closely with the Association of Family Medicine Residency Directors on such projects as an annual national survey of family medicine residency program graduates and opportunities for select family medicine residency programs. Additionally, the ABFM Foundation sponsors researchers to attend the Grant Generating Project at the North American Primary Care Research Group.
© 2019, American Board of Medical Specialties.
Read the Latest Issue of the ABMS Insights Newsletter