Board Certification Standards
The standards for ABMS Member Board certification and continuing certification reinforce the value of board certification to physicians and specialists (also known as diplomates) and patients as well as to health systems and regulatory bodies. They are designed to guide the 24 ABMS Member Boards in providing programs that help ABMS Member Board diplomates demonstrate their commitment to continuous learning, professionalism, and patient care, and to improve the systems in which they work.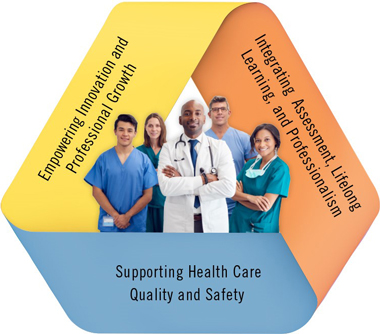 The ABMS Standards for Board Certification empower the ABMS Member Boards to design specialty-specific certification programs for new diplomates and integrate innovative assessment programs to support their professional growth. Participating in a Member Boards' certification program exemplifies diplomates' dedication to lifelong learning and professionalism, helps them keep their knowledge up-to-date, and supports them in providing safe, quality patient care.
The Standards for Initial Certification offer a foundation for the ABMS Member Boards to develop and use educational, training, and assessment requirements for evaluating candidates for certification.
Additional Standards for Continuing Certification provide a framework for the Member Boards to create programs that support the learning and improvement needs and desires of their diplomates. Both the standards for initial certification and continuing certification give the Member Boards flexibility to address specialty-specific requirements, and:
Determine eligibility for board certification
Create assessment systems for learning and of learning
Align with other professional expectations and requirements of continuing professional development
Support and recognize quality and safety improvement activities
Develop new pathways for diplomates to keep their certification current
The standards acknowledge that professional self-regulation is a collaborative process involving professional societies, hospitals, health systems, and ABMS' Associate Members with each having an important role in supporting diplomate engagement in meaningful learning and improvement work. Our community of Member Boards evaluates the standards, incorporating advances in technology and science, and changes to regulation and delivery systems, to ensure that board certification is a rigorous, yet flexible, process that continues to evolve and meet the needs of physicians and their varied practices.