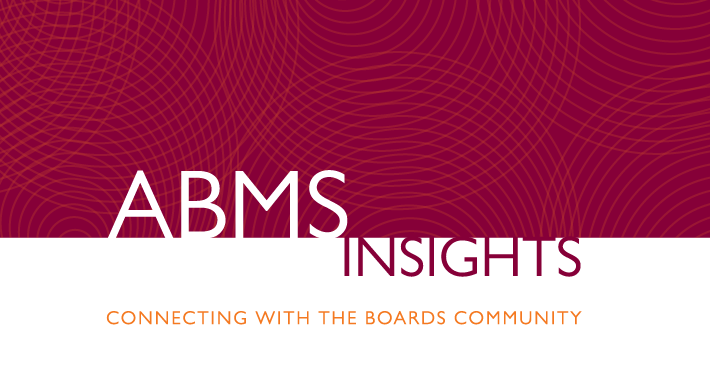 As American Board of Medical Specialties (ABMS) Member Boards embrace formative, longitudinal assessments, they are increasingly collaborating with their respective Specialty Societies on activities that enhance lifelong learning. It is an ideal pairing that not only accelerates the translation of medical knowledge for board certified physicians but evaluates their knowledge in ways that are innovative, relevant, and meaningful to their practice and professional life. Following are some highlights of these efforts.
The American Board of Anesthesiology (ABA) and the American Society of Anesthesiologists developed a High-Priority Topics Report that includes knowledge assessment data gleaned from the ABA's MOCA Minute. This report was pilot tested in 2020 and will be offered to continuing medical education (CME) providers for the first time this month. Twice each year, CME providers will receive aggregate examination data for all diplomates including blueprint categories, codes, and key points as well as details on how many related learning activities are housed in the ABA's CME Explorer, a web-based tool anesthesiologists use to search for CME. All anesthesiologists participating in MOCA 2.0® have access to the CME Explorer, which links to activities associated with their incorrectly answered MOCA Minute questions via their Knowledge Assessment Reports. By sharing these data, the Society can develop CME activities around knowledge gaps identified in the MOCA Minute for board certified anesthesiologists.

In 2016, the American Academy of Dermatology (AAD) and the American Board of Dermatology (ABD) collaborated to launch a self-assessment tool called Question of the Week. AAD created and hosted the portal while ABD provided the content for the initial launch. Eventually, the item writing responsibilities were assumed by AAD. Citing its ease of access, relevant cases, and comprehensive explanations, participating dermatologists regard Question of the Week as an invaluable tool to reinforce and refresh their knowledge. In 2017, ABD developed an interface with the AAD's CME Transcript Program to automatically record CME, self-assessment, and practice improvement credits for board certified dermatologists on their ABD Maintenance of Certification (MOC) Tables. This offering saves the dermatologists time and ensures they receive MOC credit for their educational endeavors with AAD. Additionally, starting with the ABD's 2019 launch of the CertLink® longitudinal assessment platform, articles from the Journal of the American Academy of Dermatology are prominently featured within the article-based question portion of the assessment. The journal's original, peer-reviewed articles help fill practice and knowledge gaps for dermatologists participating in CertLink.
The American Board of Orthopaedic Surgery Web-Based Longitudinal Assessment (ABOS WLA) Pathway, which was first offered in 2019, has been successful due in large part to significant input and collaboration from the American Academy of Orthopaedic Surgeons (AAOS) and Orthopaedic Subspecialty Societies. The basis of the ABOS WLA is the Knowledge Sources that participating orthopaedic surgeons choose from and answer questions about based on their type of practice and subspecialty areas. These Knowledge Sources have been graciously made available to ABOS by AAOS, Subspecialty Societies, and their respective publishers. Additionally, AAOS and Subspecialty Societies provide subject matter experts to determine appropriate Knowledge Sources and write questions based on those Knowledge Sources. In 2021, ABOS board certified orthopaedic surgeons could choose from more than 200 Knowledge Sources. The AAOS and Subspecialty Societies also have been key partners in communication efforts regarding the ABOS WLA Pathway. In 2021, more than 13,700 orthopaedic surgeons participated in the ABOS WLA Pathway and survey results have shown that most of them reported it was beneficial to their practices.
Suggestions for articles to use for the American Board of Emergency Medicine's (ABEM) lifelong learning and self-assessment (LLSA) activities and Key Advances for MyEMCert are solicited from the major Emergency Medicine Specialty Societies. They also provide clinical guidelines that are used as both LLSA articles and MyEMCert Key Advances topics. Additionally, the American College of Emergency Physicians provides Improvement in Medical Practice activities that all Emergency Medicine physicians can participate in.
The American Board of Obstetrics and Gynecology (ABOG) collaborates with the American College of Obstetrics and Gynecology (ACOG) on numerous Improvement in Medical Practice initiatives, many of which are national, multidisciplinary quality improvement efforts designed to improve the quality of care for mothers and babies. Among them are the Centers for Disease Control and Prevention-sponsored Maternal Mortality Review/Pregnancy Associated Mortality Committees, state-level Perinatal Quality Collaboratives, ACOG Alliance for Innovation on Maternal Health, and ACOG Council on Patient Safety in Women's Health Care.
The collaboration between the American Board of Psychiatry and Neurology (ABPN) and American Academy of Neurology (AAN) goes beyond developing lifelong learning CME, self-assessment, and patient safety resources for board certified psychiatrists and neurologists. Like many Member Boards that confer credit for participating in Society-sponsored improvement activities, ABPN offers continuing certification credit for psychiatrists and neurologists who participate in the AAN's Axon Registry®. During the COVID-19 pandemic, ABPN provided a grant to offer the AAN Annual Meeting on Demand, allowing board certified physicians complimentary access to it. When ABPN requested nominations for a committee to explore a new article-based continuing certification pathway to begin in 2022, six out of 11 nominations for the Part III Pilot Project came from AAN. Moving forward, the two organizations are exploring ways to conduct joint research regarding education as well as diversity, equity, and inclusion.
ABMS' new continuing certification standards intend to build on and extend collaboration between the Member Boards and Specialty Societies on lifelong learning and quality improvement initiatives.
© 2021, American Board of Medical Specialties
Read the Latest Issue of the ABMS Insights Newsletter