"The Visiting Scholars program is much more than a one-year commitment. It's about building relationships and laying a foundation for the rest of your career."
Brian T. Garibaldi, MD, MEHP | American Board of Internal Medicine
Specialty: Internal Medicine
Subspecialties: Critical Care Medicine
Pulmonary Disease
When we checked in with Visiting Scholar alumnus Brian Garibaldi, MD, MHEP in January of 2021, we found him still very much on the front lines of the COVID-19 pandemic.
"Over the past two years, it's been all COVID-19, all of the time, unfortunately," said Dr. Garibaldi.
In late December 2019, the world health community first learned of a cluster of pneumonia cases in China. Dr. Garibaldi's institution, Johns Hopkins Health System, began its response, including activating its incident command teams in early January 2020 and the Biocontainment Unit (BCU) for its first patient with COVID-19 on February 29.
After the Ebola outbreak in West Africa in 2014, Dr. Garibaldi was instrumental in creating the BCU, a federally-funded facility designed to provide multidisciplinary care for patients affected by high-consequence pathogens such as Ebola. He helped to design the physical structure of the unit, created the physician staffing model, and constructed the clinical care guidelines and protocols. Dr. Garibaldi also led the design of the BCU simulation and training program for the care of patients with highly infectious diseases.
From February 29 through March 20, 2020, the BCU team managed the first three persons under investigation (PUIs) and the first 11 confirmed cases of COVID-19 at Johns Hopkins.
"After establishing and successfully utilizing the BCU care protocols, we shifted some of our efforts toward research, establishing the COVID-19 Precision Medicine Center of Excellence, which houses the JH-CROWN clinical registry," said Dr. Garibaldi. "One of the most significant things to come out of the research team was the creation of prediction models that can help frontline staff make better informed bedside care decisions in the moment."
While it may seem that Dr. Garibaldi's current work on COVID-19 is far removed from his Visiting Scholars research project, Rekindling the Culture of Bedside Medicine: A Novel Methodology to Assess and Teach Physical Examination Skills, he would be the first to tell you that it is closely related.
"With its highly contagious nature, COVID-19 has necessarily sidelined patients' families while restricting health care professionals' time at patients' bedsides. Teaching clinicians how to provide empathetic, yet structured and consistent bedside care to lonely and frightened hospital patients, while communicating effectively with their families, has never been more important than now, when our nation's hospitals are overwhelmed."
---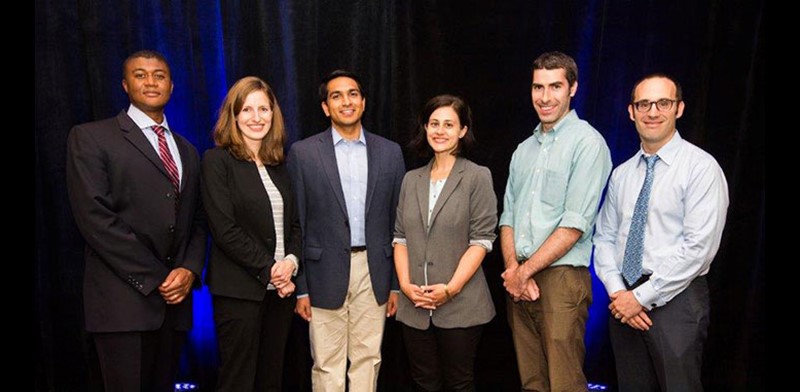 The 2017-2018 Class of Visiting Scholars: From left: Johnathan Bernard, MD, MPH; Regan Bergmark, MD; Souvik Chatterjee, MD; Shannon Martin, MD, MS; Martin Casey, MD, MPH; and Brian Garibaldi, MD
---
Dr. Garibaldi credits his ABMS Visiting Scholar experience with setting him on the path of improving the bedside experience for patients. "My Visiting Scholar project led me to help found the Society of Bedside Medicine (SBM), which is an organization made up of clinicians dedicated to enhancing the clinical encounter with the patient."
One of the most enjoyable experiences of the Visiting Scholars Program for him was engaging in discussion with health care thought leaders, including decision-makers at national health care organizations. "It was incredible to me that these influential leaders genuinely wanted to hear about our projects and valued our opinions about the future of board certification and medicine. It was during one of these meetings that I made a priceless connection and opened a meaningful dialogue with someone from the American Medical Association, which led to one of my current grant projects."
He is particularly pleased that he has been able to continue his relationship with the original funder of his Visiting Scholar research project, the Gordon and Betty Moore Foundation, which champions improved patient experiences and outcomes. SBM recently partnered with the foundation and the Johns Hopkins Department of Medicine to create a Bedside Medicine Fellows Program that will provide support for two fellows each year for the next three years. This program will create a community of talented clinician-educators and researchers who recognize the value of the bedside encounter in improving diagnostic accuracy and overall patient care.
When asked his thoughts about the pandemic, Dr. Garibaldi said, "We are in a better place than we were in the beginning, as far as our understanding of COVID-19 pathobiology, variants, and therapeutics, but this pandemic does not end here in the US until it ends everywhere in the world. We need to focus on getting more people fully vaccinated globally to help deal with the current combined delta and omicron surge and to limit the rise of future variants."
Dr. Garibaldi grew up in New York City and graduated summa cum laude from Harvard College with a degree in biological anthropology. Before earning his medical degree from the Johns Hopkins University School of Medicine, he spent a year studying flamenco and classical guitar in Spain as part of the John Finley Fellowship from Harvard College. He completed his internal medicine residency and pulmonary and critical care fellowships at Johns Hopkins, where he also served as chief resident from 2008 to 2009.
Dr. Garibaldi has authored or co-authored more than 75 articles in peer-reviewed publications on such topics as prediction models in COVID-19, comparative effectiveness of therapeutics in COVID-19, clinical skills teaching and assessment, and the importance of the clinical examination in 21st century medicine. He is a fellow of the New York Academy of Medicine, the Royal College of Physicians of Edinburgh, and the American College of Physicians. He is also a member of the Johns Hopkins Miller-Coulson Academy of Clinical Excellence.
Certified by the American Board of Internal Medicine (ABIM), Dr. Garibaldi is Director of the Johns Hopkins Biocontainment Unit; Director of the Johns Hopkins COVID-19 Precision Medicine Center of Excellence; and Associate Professor of Medicine of Physiology in the Division of Pulmonary and Critical Care Medicine at the Johns Hopkins University School of Medicine. He is also the associate program director of the Osler Medical Residency Program.
Read more Scholars Impact stories.
Read more about the Visiting Scholars program.