American Board of Medical Specialties Statement on Credentialing During COVID-19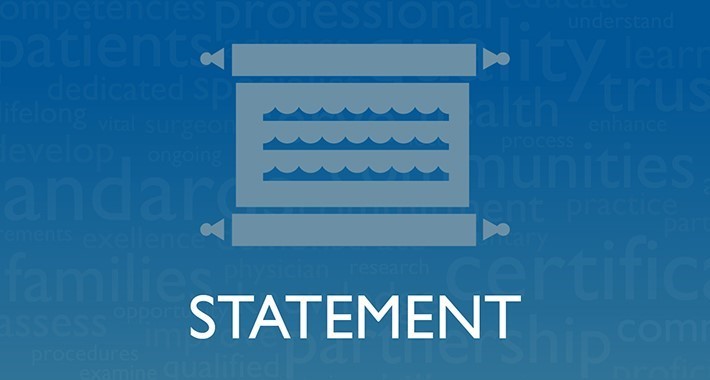 The onset and continued progression of the COVID-19 pandemic has been extremely disruptive to both the initial and continuing certification processes for American Board of Medical Specialties (ABMS) Member Boards. Recognizing the value that physicians, patients, hospitals and health systems place upon this credential, several ABMS Member Boards have adjusted their programs to accommodate the needs of their stakeholders, while maintaining the high standards and integrity that board certification represents. The Member Boards continue to welcome inquiries from diplomates and all stakeholders regarding individual circumstances or needs.
The ABMS Member Boards have sought safe, alternative methods of administering initial certification examinations for board eligible physicians and their specific information is available on their websites. In addition, many of the boards have extended the eligibility deadlines for their initial examinations to accommodate the extraordinary circumstances caused by COVID-19. Understanding the importance of board certification as an essential element in credentialing and obtaining hospital privileges, the boards support exceptions being offered for physicians who are board-eligible but, due to COVID-19, are unable to complete initial certification at this time.
With regard to recertification, 16 ABMS Member Boards have been able to adjust their programs to allow diplomates to complete their necessary continuing certification activities and will recertify per their normal procedures or, in the case of the American Board of Otolaryngology – Head and Neck Surgery, offer the option to defer the exam until 2021. The following eight Member Boards have opted to provide an extension of the certification date for their diplomates:
American Board of Anesthesiology (12/31/2021)
American Board of Allergy and Immunology (12/31/2021)
American Board of Dermatology (6/30/21)
American Board of Emergency Medicine (6/30/21)
American Board of Internal Medicine (Grace period 12/31/2021)
American Board of Family Medicine (12/31/21)
American Board of Preventive Medicine (6/30/21)
American Board of Psychiatry and Neurology (12/31/21)
For questions regarding the accommodations being offered to diplomates and board-eligible candidates in a specific specialty or subspecialty, members of the credentialing community may contact the individual ABMS Member Boards for specific information on their policies and program adjustments
---
Download American Board of Medical Specialties Statement on Credentialing During COVID-19[PDF]
---
Read More News from ABMS