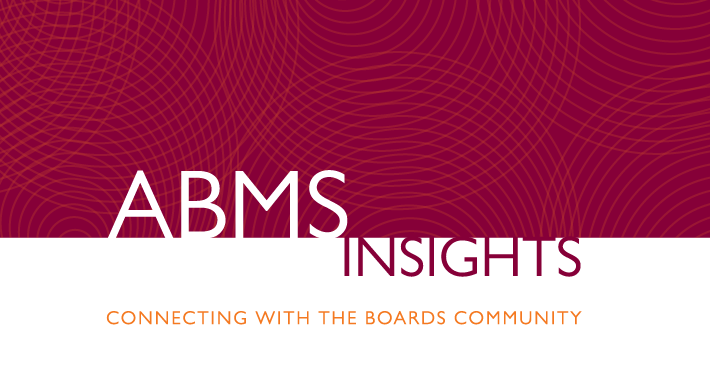 by Larry A. Green, MD, Past Chair of the ABMS Board of Directors; Distinguished Professor, Epperson Zorn Chair for Innovation in Family Medicine and Primary Care at the University of Colorado School of Medicine
ABMS Conference just keeps getting better and better!
Besides an abundance of pertinent content related to physician assessment, quality improvement, professionalism, and professional development, ABMS Conference 2022 served up some relief from the effects of the COVID-19 pandemic with much welcomed, personal engagement around some very popular snacks and in hallways between sessions.
Speakers at the opening plenary tackled one of the most pressing issues in medicine today – dis/misinformation – and its implications for health care professionals and the public trust. It has become clear that both law and ethics are trailing behind the evolution of e-commerce and e-communication globally. This environment makes it all the more difficult to determine how best to respond to the intentional spread of claims that harm people and break down trust among all health care professionals, not just physicians and specialists.
I took personal delight in the Lois Margaret Nora Endowed Lecture Series this year; the surgeons who spoke were inspiring, encouraging, and serious about understanding and implementing competency-based medical education (CBME). Other sessions further demonstrated how the implementation of CBME not only has the potential to transform graduate medical education but could play a vital role in continuing certification by bridging the continuum of learning and assessment.
Many at the podium and concurrent session presenters made me reconsider previously held beliefs. For example, sessions on professionalism made me rethink the measurement of performance. Sessions about diversity, equity, and inclusion offered different perspectives about classifications important to eliminating disparities and inequities in health care.
It was a privilege to meet some of the new ABMS Visiting Scholars and catch up with some program alumni. I was most impressed with how interested the Visiting Scholars, who are already accomplished in their chosen specialty, are in addressing inter-specialty issues and cultivating cross-specialty relationships to work on those issues.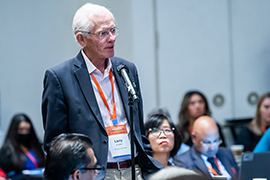 I paid particular attention to the posters, which were topnotch. Some addressed the impact of COVID-19 on the administration of ABMS Member Board assessments, while others focused on how the boards pivoted in response to the pandemic to provide innovative assessments. Other posters focused on new and engaging continuing certification activities that support professional development in the realm of diversity, equity, and inclusion; practice pathways; and patient-reported outcomes measures. Some revealed our shared need to re-think assumptions about physician-defined certification and reconsider why it should continue to exist.
There was nothing I enjoyed more than former ABMS President Dr. Lois Margaret Nora returning and presenting her research about women in medical professional regulation as revealed in historic photographs appearing in Federation of State Medical Board publications across the decades. If you attended the conference but missed this session, you can still view an on-demand recording through December. Be sure to look at Dr. Nora's opening photo and gauge your reactions to it, and then if in a hurry, skip to her last photo, which happens to be the same one, to learn about the article that accompanied it.
Lastly, it was a pleasure to reconnect with friends and colleagues from days gone by. ABMS Conference 2022 seemed to flow without a hitch, thanks in part to great staff support, and was just plain fun for me.
This year's experience has left me looking forward to ABMS Conference 2023.