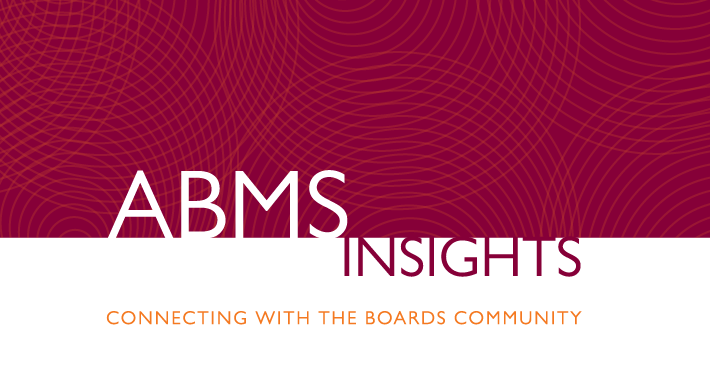 Professionalism is a vital aspect of patient care and a key tenet of American Board of Medical Specialties (ABMS) board certification. For ABMS, professionalism represents a belief system and behaviors that support trustworthy relationships between patients and their physicians.
In recent years, however, that trust has started to fray and faith in the health professions is waning. Among the contributing factors are legislative and judicial challenges to the value of certification, clinician burnout, the COVID-19 pandemic, and the shift from independent physician practice to employment by hospitals, health systems, and corporate entities. To address the challenges brought on by the changing health care environment, ABMS Member Boards are establishing initiatives that emphasize professionalism. Following are examples of larger scale efforts.
In 2018, the American Board of Family Medicine (ABFM) and its foundation created the Center for Professionalism & Value in Health Care designed to address issues of professionalism and value beyond family medicine, and even beyond medicine. The goal[PDF] is to offer a neutral space for the professions to develop practical policy and practice solutions to repair medicine's social contract. Additionally, the Center calls for more accountability of the $19 billion of graduate medical education funding to honor the social contract, a more robust assessment of training outcomes, data sharing across organizations, and a greater focus on system accountability. This new capacity to assess training outcomes will offer the public and policymakers greater transparency and identify opportunities to improve training.
Located in Washington, D.C., the Center engages the broader health care community, policymakers, payers, and patients to consider the state of professionalism and its value as well as how to measure, align, and improve them. The Center aims to:
Test the state of the social contract between health professionals and the public
Identify relationships between burnout and shame and the inability to be professional
Assess growing commoditization of health professionals and the impact on professionalism
Understand alignment between measures of value and professionalism
Call out expectations of health professionals to routinely sacrifice well-being or financial solvency
Explore interprofessional understandings of professionalism
To date, the Center has stewarded two Patient Reported Outcome measures that promote professionalism: the Patient Centered Primary Care Measure (now endorsed by the National Quality Forum and Center for Medicare & Medicaid Services ) and a Primary Care Trust measure, now being implemented in ABFM's national PRIME Registry, a Qualified Clinical Data Registry.
The American Board of Internal Medicine (ABIM) Foundation has a long history of advancing medical professionalism, beginning in 2002, with the publication of Medical Professionalism in the New Millennium: A Physician Charter[PDF].
The Foundation's commitment to medical professionalism expanded a decade later with its Choosing Wisely® campaign, which promotes conversations between clinicians and patients by helping patients choose care that is supported by evidence, not duplicative of other tests and procedures already received, free from harm, and truly necessary.
In 2021, Building Trust was launched to elevate the importance of trust as a core organizational strategy for advancing trusting relationships and improving health care. The initiative's areas of focus include organizational-relational trust, health equity, and trust in science/addressing misinformation. The avenues for engaging organizations in viewing the power of trust to improve performance by making it a core operating strategy include:
Developing a Trust Practice[PDF] — An open call for health care organizations to share an exemplary practice that fosters trust in the health care sector. To date, more than 45 organizations have contributed a Trust Practice, sharing how they are building trust with their clinicians, staff, patients, and communities.
Crowdsourcing trust-building approaches[PDF] — An easy way to solicit feedback from clinicians, leadership, staff, and others about how to build trust. Learn from[PDF] residents and faculty at Wayne State University School of Medicine.
Conducting a Building Trust Challenge[PDF] — Solicit, identify, and promote Trust Practices from within an institution. Parkland Health & Hospital System's[PDF] Challenge resulted in 36 exemplary submissions from across the organization; three of the programs have since been implemented systemwide.
In addition, Building Trust is working to promote research on trust topics with AcademyHealth; studying what behaviors drive trustworthiness with the Institute for Healthcare Improvement; and promoting trust through enhancing diversity, equity, and inclusion in internal medicine education with the Academic Alliance for Internal Medicine and American College of Physicians.