A Guide to Engaging Patients in Physician Certification
The American Board of Medical Specialties (ABMS) and its Member Boards recognize the importance of including the perspective of patients when defining policies related to physician assessment. To ensure that perspective is heard, ABMS and its Member Boards invite the public to sit on their Boards of Directors.
ABMS' public members represent patients and individuals with a broad range of experience in patient care, health administration, education, business, community service, regulatory policy, and international affairs. Their presence on the Board of Directors is designed to increase transparency of Member Board programs and help support the social compact between society and the medical profession. Patient members in particular help ABMS and its Member Boards remain aware of, and responsive to, the needs of the patients, families, and communities they serve.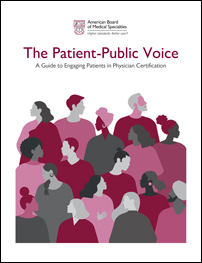 The Patient-Public Voice: A Guide to Engaging Patients in Physician Certification[PDF] describes the critical perspective provided by patients serving as public members and offers suggestions on how to:
Select patient-public members
Prepare patient-public members for active engagement
Integrate patients as full partners