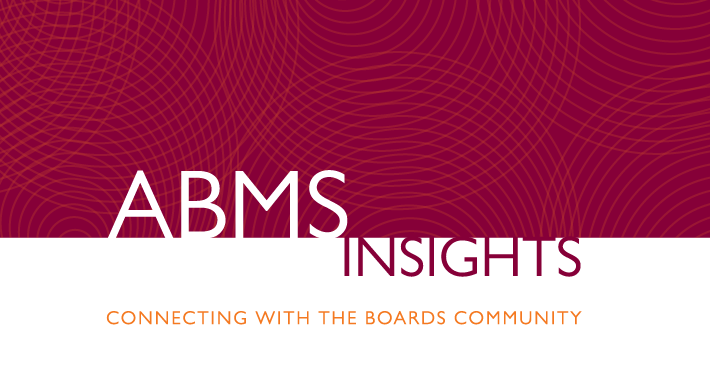 By Sahar Pastel-Daneshgar, MOC Coordinator, and Richard H. Wiggins, III, MD, CIIP, FSIIM, FASHSE, FACR, Associate Dean of CME, in the CME Office at the University of Utah Health Sciences Center
The University of Utah Continuing Medical Education (CME) office is an American Board of Medical Specialty Portfolio Program (ABMS Portfolio Program™) Sponsor, participating with the ABMS Member Boards and National Commission on Certification of Physician Assistants (NCCPA) to accept quality improvement (QI) activities as meeting their requirements for continuing certification credit. In our program, we encourage submission to multiple boards and the development of multidisciplinary projects for our physicians and physician assistants (PAs) alike. In fact, since becoming a Sponsor in 2014, nearly 1,000 physicians and 60 PAs have received credit from 18 ABMS Member Boards and NCCPA, respectively, for their participation in one or more of 150-plus QI activities through our program.
At the University of Utah, QI work is truly a team effort, and we want as many health care providers as possible to receive credit for completed work to reward and further reinforce the importance of their role in promoting a safe and healthy community. To that end, we have established a system to easily integrate Performance Improvement-Continuing Medical Education (PI-CME) into QI projects, wherever possible. By working with providers as they develop their projects, we can align the two types of credit for each project. Typically, we are able to award 20 PI-CME credits per project across disciplines, and these credits are available to all clinicians who comprise the care team—not just physicians and PAs, but registered nurses, medical assistants, and other allied health staff.
Although our office does not create QI projects, we do encourage providers to submit projects that are based on our interactions, such as the daily continuing education events we support, with hundreds of RSS feeds and live events each year. Educational activities generated from our office promote, for example, dissemination and implementation of recent scientific advancements, patient safety, a reduction in medical errors, optimal prescribing methods, and effective referral methods. All these topics lend themselves to QI projects and promote the ultimate goal of helping providers practice high-quality patient care that results in better outcomes.
"Not only does our work impact patients in a positive way, but our providers receive the added benefit of fulfilling part of their professional requirements."
We have seen significant improvements in areas such as depression screenings, health maintenance order frequency, breast cancer screenings, childhood immunization rates, chlamydia screenings, message management, and pediatric mental health access and integration into care, all of which have been available for continuing certification and PI-CME credit. Through our QI projects, we see demonstrable, measurable outcomes as they happen and their resulting community health impact. Not only does our work impact patients in a positive way, but our providers receive the added benefit of fulfilling part of their professional requirements. In fact, we have found that involvement with the Portfolio Program aligns so closely with our CME goals that we used this sponsorship as part of our Commendation criteria to receive Accreditation with Commendation from the Accreditation Council for Continuing Medical Education.
The benefits of participating in the Portfolio Program extend beyond our providers and patients, to our professional development and QI staff. The monthly ABMS Portfolio Program Sponsor calls are invaluable in assisting us with engaging health care professionals in our various QI activities. The online resource Sponsor Central has given us important information and tools to conduct our program.
While it is difficult to document or calculate the Portfolio Program's financial value, in 2019 our institution attempted to do just that, conducting a return-on-investment (ROI) analysis. At that time, a total of 668 providers had received continuing certification credit. By attempting to quantify hours for CME per project, compared to physician full-time equivalent salary, an estimated productivity investment of $1.73 million was calculated. Although these assumptions do not definitively prove that the QI projects saved this amount of money, these calculation discussions were successfully used to increase institutional funding for future QI efforts. It is critical that ABMS Portfolio Program Sponsors identify and document potential ROI analyses to clearly demonstrate the importance of quality-centric organizations.
In summary, we have found many added benefits to serving as an ABMS Portfolio Program Sponsor that touch a variety of facets in our health care community from fostering interdisciplinary projects to enhancing our accreditation status, allowing us to promote a culture of quality and safety throughout our organization and beyond.
© 2021, American Board of Medical Specialties