Photo: Drs. Sylvia R. and Richard L. Cruess, thought leaders on professionalism and the role of the physician in the 21st Century, were keynote speakers at ABFM's 50th Anniversary Symposium held Oct. 5.
---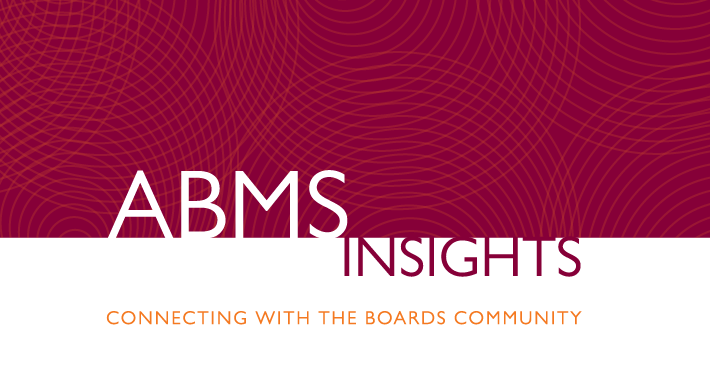 Reflecting on the American Board of Family Medicine's (ABFM's) 50th anniversary, it's easy to see the evolution of physician assessment, especially within the last decade.
At its founding, ABFM required board certified family physicians' cognitive expertise to be assessed every seven years using a secure examination and their competence demonstrated in a chart audit. In the early 2000s, as the American Board of Medical Specialties' Member Boards evolved to a Maintenance of Certification model, ABFM created a program of knowledge self-assessments (KSAs), updated its performance improvement requirements to be completed every three years, and extended the time between recertification exams to 10 years. The KSA topics address conditions identified by the Institute of Medicine (now the National Academy of Medicine) as major drivers of morbidity and mortality and contain 60 questions to help family physicians assess their own knowledge competency. Feedback from physicians about the KSAs has been very positive and many more KSAs are completed each year than necessary to meet the requirement.
In 2017, ABFM introduced its Continuous Knowledge Self-Assessment (CKSA) tool designed to help family physicians continuously identify personal strengths and weaknesses with regards to medical knowledge and clinical decision-making. Unlike the KSA modules, the CKSA delivers a set of 25 questions online each quarter that cover the spectrum of problems seen in family medicine practice. The questions are similar in format and exam blueprint to those on the ABFM certification exam. After completing 100 CKSA questions, participating physicians get a personalized performance report that includes a predictor of performance on the one-day exam. For convenience, the CKSA is available via an app that can be uploaded to a mobile device and completed at any time. Feedback from the more than 32,000 family physicians who have participated in CKSA has consistently shown that it provides ongoing identification of knowledge gaps and subsequent learning.
This past January, ABFM launched the Family Medicine Certification Longitudinal Assessment (FMCLA) pilot as a possible alternative to its 10-year secure exam. The FMCLA is based on the CKSA information technology platform, with the addition of time restrictions per question and security measures. Of the initial cohort of family physicians eligible to take the exam, 71 percent chose the FMCLA pilot instead of the one-day exam. Feedback to date has been overwhelmingly positive with respect to convenience, platform, ease of use, item relevance, and immediate critiques. The most consistent comments from participants describe this approach as supporting their continuous learning and application to practice.
As ABFM looks to better support board certified family physicians' lifelong learning, ABFM plans to implement enhancements that include:
providing detailed reports to participants at the 100-question mark to help them assess their performance compared to their peers and the passing standard;
validating a new exam blueprint organized around a patient's age and a condition's urgency and duration to better capture how family physicians approach the clinical problems they face;
exploring how to more closely align the taxonomy of topics and knowledge gaps assessed with the American Academy of Family Physicians and other continuing medical education partners, so that the board's education partners can better develop educational programs to meet identified needs;
adding topics to the KSAs that address emerging public health issues, or the comprehensive scope of practice needed for family physicians or value-based health care (e.g., addiction medicine, multimorbidity);
developing a pilot of an optional national Family Medicine Journal Club that will offer key practice-changing journal articles relevant to family medicine and provide certification credit for participating physicians who answer questions selected to demonstrate an understanding of the clinical application of the information; and
updating performance improvement to simplify documentation and provide options for family physicians working in non-continuity practices (e.g., emergent/urgent, hospital-based, and palliative care).
Other milestones are ABFM's PRIME Registry and Center for Professionalism and Value in Health Care. Established in 2016, the PRIME Registry is family medicine's outpatient clinical data registry and Qualified Clinical Data Registry. The Registry is designed to help provide family physicians a faster, easier way to evaluate practice performance; improve primary care practice and patient outcomes; and reduce the burden of reporting for federal payment programs. Created in 2018, the Center seeks to promote the role of professionalism, reaching beyond medicine to engage the broader health care community as well as patients and families to consider the meaning of our social contract and how to shape the clinical environment to allow physicians to demonstrate their professionalism.
---
© 2019 American Board of Medical Specialties
Read the Latest Issue of the ABMS Insights Newsletter
Subscribe to ABMS Insights Newsletter