ABMS: Living Our Mission
At the heart of the ABMS mission lies a single guiding belief: Everyone deserves high-quality health care.
And we believe the best care is provided by physicians and specialists who are board certified by an ABMS Member Board. Our collective focus is being the most trusted provider of high-quality specialty certification.
We are dedicated to helping support today's professionals and developing tomorrow's leaders. We live our mission by creating an environment of better-informed communities, highly competent physicians and specialists, and quality health care. It's what is expected of a leader — and it's the goal that keeps us aiming higher.
ABMS is living our mission by:
✔ Supporting the ABMS Member Boards, their programs, and their board certified physicians and specialists in today's health care environment
ABMS board certification touches people every day. Our network of 24 Member Boards certifies physicians and specialists in 40 specialties and 89 subspecialties. Nearly one million individuals hold an active board certification from an ABMS Member Board. Together, we help drive research and innovation, encourage high-quality patient care, promote a quality and safety culture, ease health care disparities, shape future leaders, and support professional development.
✔ Transforming continuing certification to better align with physicians' and specialists' needs
Board certification tells a story about an individual's knowledge, judgment, and skills and represents their commitment to professionalism and improving the systems in which they work. Participating in an ABMS Member Board's continuing certification program encourages continuous learning and improvement. New standards for continuing certification recognize the value of continuing certification and helps ABMS deliver on its mission by supporting program enhancements that:
Enable better, more frequent and convenient assessments to accelerate the transition of medical knowledge while maintaining a rigorous knowledge evaluation
Use the formative aspects of assessment to inform the summative decision on certification status
Bring assessment and other program activities to where individuals practice so they can learn during the process of staying certified
Offer remediation pathways to retain or regain a certificate
Provide a way to assess knowledge and allow physicians and specialists to learn during the process of staying certified
As ABMS Member Boards embrace formative, longitudinal assessments, they are increasingly collaborating with their respective Specialty Societies on activities that enhance lifelong learning. It is an ideal pairing that not only accelerates the translation of medical knowledge for board certified physicians but evaluates their knowledge in ways that are innovative, relevant, and meaningful to their practice and professional life.
✔ Preserving the standards of certification for physicians and specialists
It is the physician's or specialist's job to earn their credential, keep it current, and demonstrate the appropriate professional conduct. Since the beginning of board certification more than 100 years ago, physicians and specialists began holding one another accountable to a higher standard of practice. They created specialty boards and a system of examination and education to ensure that the standards of their specialty are met.
The boards were eventually brought together to form ABMS. The boards work together to preserve the standards for initial and continuing certification. The standards are routinely reviewed and updated to reflect the present health care environment and to offer new ways to support physicians and specialist in their practice.
✔ Leading the efforts to protect medical professional self-regulation
Professional self-regulation acts to protect the public from practitioners who are unqualified, incompetent, or unethical. It is a key component in medicine, and during their careers many ABMS Member Board certified physicians and specialists are involved in setting, implementing, and possibly enforcing professional standards.
Above all, professional self-regulation is a collaborative process that requires the involvement of our partners including our Member Boards, Associate Members, and professional societies.
While the ABMS Member Boards define the standards for specialty expertise, multiple other stakeholders provide continuing medical education and offer services, learning opportunities, and improvement programs that enable physicians and specialists to engage in meaningful continuing professional development from residency to retirement. Each of these stakeholders has an important role in supporting their members' engagement in meaningful learning and improvement work.
✔ Providing a platform to address emerging and critical public health issues that impact health care delivery and patient care
As part of the greater house of medicine, ABMS believes it is important to comment on critical issues affecting physicians and specialists, the certification community, and the health and the patients and communities we serve.
✔ Establishing policies that support physicians and medical specialists in providing the highest quality care
ABMS Strategic Plan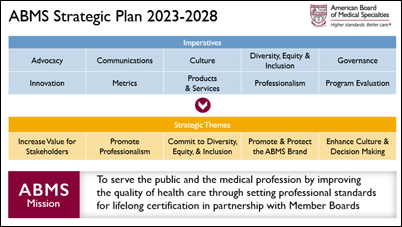 ABMS is following its 2023–2028 strategic plan.