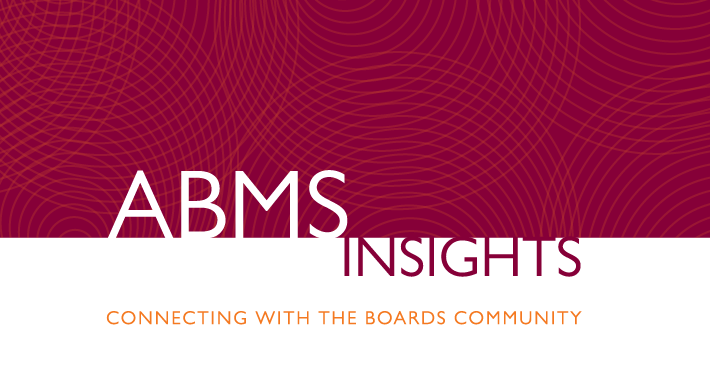 By Richard E. Hawkins, MD, ABMS President and Chief Executive Officer
The American Board of Medical Specialties (ABMS) and its Member Boards have a unique and distinct role in improving diversity, equity, and inclusion (DEI) in the health care community.
We understand that the trauma of violence and intolerance has a cumulative, direct impact on the health and well-being of individuals and is associated with a higher incidence of chronic illness and lower life expectancy. That, coupled with social inequities that limit access to quality care, leave minority communities — especially those of color — vulnerable to systemic health issues as witnessed most recently during the novel coronavirus pandemic. Long before the names of George Floyd and Breonna Taylor were etched in our collective mind, it has been clear that our nation's institutionalized racism and social injustice is a public health issue that must be addressed.
As an organization grounded in professional self-regulation, we have made a broad and sustained commitment to DEI in three key areas: who we are organizationally, how we work collectively as a Boards Community, and how we engage specialty physicians in the certification process.
From an organizational standpoint, we have been exploring ways to improve DEI for more than three years, beginning with unconscious bias training for our governance and staff. Concurrently we are making a concerted effort to broaden our volunteer leadership candidacy process to enhance diversity from an ethnic, racial, and gender perspective as well as incorporate wide representation regarding age, career level, and type of practice environment to ensure ABMS' leadership and committees reflect the totality of the profession.
In the ABMS office, a culture of contribution, inclusion, and innovation that has been a focus of our work for the last three years, has empowered staff to create programming and initiatives aimed at educating and informing colleagues about racism, including a workshop presented by the Racial Equity Institute that focused on the historical, cultural, and structural analysis of racism. Information garnered from this session is being used to further inform and shape our internal governance efforts. In addition, we have created a staff-led book club facilitating informative, candid conversations based on the content of the acclaimed books "So You Want to Talk About Race" by Ijeoma Oluo and "How to be an Antiracist" by Ibram X. Kendi.
Our Member Boards are equally committed to DEI initiatives and programming, and their work is prominently highlighted in an accompanying feature in this issue. They join us in exploring how we, as members of the greater health care community, can join forces to directly influence greater diversity and inclusion throughout the House of Medicine. Efforts in this area range from featuring DEI presentations at our ABMS Conference 2020 – Virtual and engaging in ongoing dialogue with the Accreditation Council for Graduate Medical Education regarding DEI in training and certification programs to developing a three-part DEI seminar series of external experts to help increase ABMS community awareness and knowledge around these issues, and drive commitment to action from both individuals and organizations. This webinar series will kick off in April with keynote speaker Professor Edwin Lindo, JD, a Critical Race Theory Scholar and Educator who is Assistant Dean for Social and Health Justice, and Acting Assistant Professor in the Department of Family Medicine at the University of Washington School of Medicine.
What ABMS and its Member Boards do regarding board certification and continuing certification is of equal importance in addressing DEI as a community. The Draft Standards for Continuing Certification integrate key public health issues into Member Boards' programming, encouraging collaboration with specialty societies and other stakeholders to create activities that will improve health equity and reduce health disparities. Additionally, the adoption of longitudinal assessment for continuing certification affords us a unique opportunity to identify knowledge gaps in the areas of quality, safety, health equity, and care disparities as well as collaborate with our stakeholders to share best practices and knowledge and then measure, in-real time, the success and effectiveness of these educational assessment efforts. We also are actively exploring the data and processes used in the creation of our programming, working with our Member Boards to evaluate the current state of diversity, beginning with promoting DEI in our certification programs.
Erasing centuries of systemic, institutionalized racism and health care inequity while difficult at best, is both imperative and long overdue. Working together with key stakeholders across the health care community as well as making a personal commitment to DEI efforts, we can begin the hard work of rectifying this public health crisis and rebuild a more diverse, equitable, and inclusive health care system that will benefit all of the patients, families, and communities we serve; fulfilling the ultimate promise of Higher Standards. Better Care.
© 2021, American Board of Medical Specialties
Read the Latest Issue of the ABMS Insights Newsletter