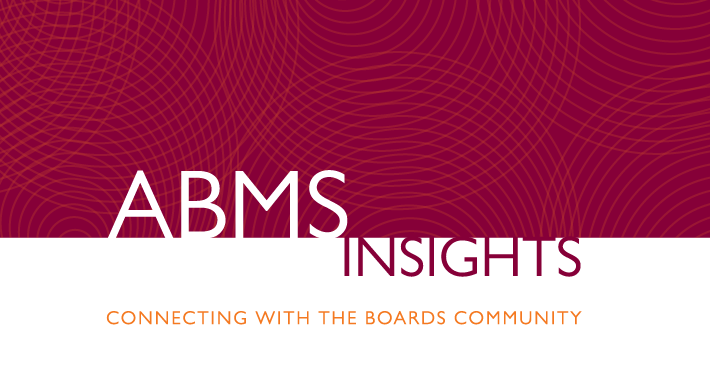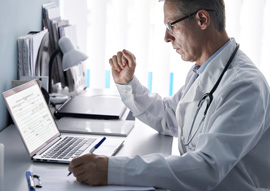 Shifting from a secure, point-in-time examination to a more frequent innovative assessment doesn't happen overnight. Developing, pilot testing, and implementing assessment programs takes years. To gain a scope of the project, consider that six American Board of Medical Specialties (ABMS) Member Boards have more than one primary specialty while five boards have 10 or more subspecialties. That often requires launching and implementing assessments in phases, typically starting with a specialty and moving to subspecialties. Throughout the process, the boards have solicited feedback from board certified physicians and medical specialists to ensure that these programs are meeting their needs—providing relevant content and supporting professional development—while simultaneously serving as a robust mechanism for assessing knowledge, expertise, and professionalism. The following are examples of how Member Boards have implemented their formative assessments for continuing certification in a phased-in approach that covers their specialties and subspecialties.
Tracking implementation
The American Board of Surgery (ABS) introduced its Continuous Certification Assessment for specialty certification in general surgery in 2018. The following year, the board launched the program for specialty certification in vascular surgery, and in two subspecialties. In 2021, ABS implemented the assessment for its two remaining subspecialties.
Two years after the American Board of Pediatrics (ABP) started pilot testing the Maintenance of Certification Assessment for Pediatrics (MOCA-Peds), the board implemented MOCA-Peds in 2019 for primary certification in general pediatrics, and in three subspecialties. In 2020, ABP introduced MOCA-Peds in four additional subspecialties. The board rolled out the program for four more subspecialties in 2021, which is the same year that ABP received the 2021 Innovator Award from the Institute for Credentialing Excellence for developing MOCA-Peds. Last year, ABP implemented MOCA-Peds for its four remaining subspecialties.
The American Board of Radiology rolled out its Online Longitudinal Assessment (OLA) for specialty certification in diagnostic radiology in 2019. The following year, the board launched OLA for its three remaining specialties and four subspecialties.
In 2020, three months after the American Board of Physical Medicine and Rehabilitation (ABPMR) replaced its Maintenance of Certification (MOC) Exam with longitudinal assessment, now known as LA-PM&R, the board introduced a longitudinal assessment for pain medicine. In 2024, ABPMR will introduce a longitudinal assessment for brain injury medicine. In addition, ABPMR is targeting 2025 to launch longitudinal assessments for two additional subspecialties.
After a successful three-year pilot, the American Board of Family Medicine (ABFM) launched the Family Medicine Certification Longitudinal Assessment (FMCLA) in 2022 as a permanent alternative to its one-day continuing certification exam. As other Member Boards have implemented longitudinal assessments, ABFM has partnered with them to expand opportunities to maintain certificate of additional qualifications using the longitudinal approach. As an example, ABFM certified physicians who currently hold Certificates of Added Qualifications in five subspecialty areas can participate in other Member Boards' assessments.
The American Board of Emergency Medicine (ABEM) launched six MyEMCert modules in 2021. One year later, it added two more modules. This year, ABEM introduced MyEMSCert for subspecialty certification in emergency medical services. Next year, ABEM will roll out MyToxCert for subspecialty certification in medical toxicology.
The American Board of Internal Medicine (ABIM) rolled out the Longitudinal Knowledge Assessment (LKA®) for 12 subspecialties in 2022. This year, ABIM launched the LKA in three more subspecialties and introduced a focused version of its Sleep Medicine LKA in obstructive sleep apnea. Next year, ABIM will introduce a new version of the Internal Medicine LKA and a traditional, 10-year MOC exam designed for those who practice primarily in an inpatient setting.
The American Board of Psychiatry and Neurology launched its Article-Based Continuing Certification Pathway in 2022 for its specialties and subspecialties, except for neurocritical care, which will be added in 2025.
Making adjustments
As Member Boards continue to seek ways to best support board certified physicians and medical specialists, they are fine-tuning their formative assessments. Often, these modifications are made in direct response to the feedback the boards have received from those physicians and medical specialists.
As an example, ABPMR and the American Board of Colon and Rectal Surgery (ABCRS), have added article-based questions to their longitudinal assessments. The feedback from physicians board certified by ABCRS has been positive with more than 95 percent indicating that the quality of the articles used for the article-based questions was appropriate. The American Board of Pathology (ABPath) recently launched a continuous quality improvement initiative that will ensure only questions of the highest quality and relevance are used in ABPath CertLink, while simultaneously introducing new, relevant material.
Earlier this year, the American Board of Dermatology created a library of the nearly 200 articles that CertLink questions have been based on since the pilot began four years ago. This allows board certified dermatologists to view the articles, which focus on key advances in the field, at their convenience.
The American Board of Obstetrics and Gynecology (ABOG) recently began mapping its article-based assessment items to the specialty and subspecialty blueprints, allowing for greater analysis of performance data and identification of specialty-based knowledge gaps. ABOG will share this data with specialty and subspecialty societies so that educational programs may be developed or enhanced to address aggregate knowledge deficits.
The American Board of Plastic Surgery, which launched its Longitudinal Learning Assessment in 2019, has since implemented clone items within each yearly assessment. Clone items are used to identify knowledge gaps with the worst performing items, which are presented again in the subsequent assessment to promote learning.
Member Boards will continue their efforts to ensure that their innovative assessment programs support board certified physicians' and medical specialists' efforts to provide the best care possible for their patients.
© 2023 American Board of Medical Specialties®