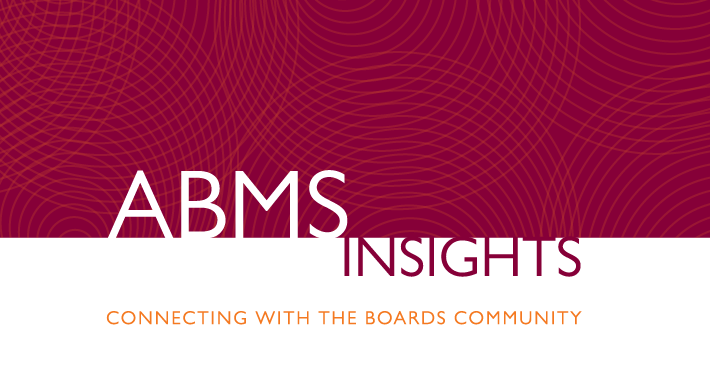 A lot has happened in longitudinal assessment at the American Board of Medical Specialties (ABMS) and its Member Boards in the New Year. After extensive pilot testing, some ABMS Member Boards have transitioned from their traditional exams to longitudinal assessment options while others have introduced innovative formative assessment pilots.
Longitudinal assessment approaches are designed to support continuing professional development as part of the Member Boards' continuing certification programs. Drawing on the principles of adult learning combined with modern technology to promote learning, retention, and transfer of information, these approaches involve administering shorter assessments of specific content, such as medical knowledge, repeatedly over a period of time. Through a recurring examination process, concepts and information are reinforced so that knowledge is retained and accumulated gradually. Knowledge gained in this fashion can be more readily retrieved and applied to various situations. Overall, these programs allow physicians to assess their knowledge, fill knowledge gaps, and demonstrate their proficiency. They may offer both time and cost savings to physicians certified by these Boards by reducing or eliminating the need for study courses, travel to exam centers, and time away from practice.
Member Boards have been exploring longitudinal assessment approaches for the past few years. The American Board of Anesthesiology (ABA) was the first to launch a pilot with 700 board certified anesthesiologists using a prototype for its MOCA Minute®, the longitudinal assessment that is the core of its Maintenance of Certification in Anesthesiology™ (MOCA®) program, in 2014. After ABA pilot tested the web-based tool with additional anesthesiologists and evaluated it for its rigor and physician feedback, ABMS approved ABA's request to transition MOCA Minute from a pilot to a permanent MOCA program component in April 2018. Similar steps have been followed by many Boards that have subsequently piloted and/or implemented innovative assessment approaches. Come January 2019, the following Boards significantly advanced their MOC programs:
All of these innovations are part of ABMS' and its Member Boards' overall commitment to bring value to physicians in practice with programs that support their learning and improvement needs. They also are in sync with the recommendations made by the Continuing Board Certification: Vision for the Future Commission in its final report. Presented to the ABMS Board of Directors in February, the report calls for the incorporation of longitudinal and other innovative informative assessment strategies that support learning, identify knowledge and skill gaps, and help board certified physicians stay current. The Boards will continue to focus on improving their programs in 2019 and beyond.
Read the Latest Issue of the ABMS Insights Newsletter