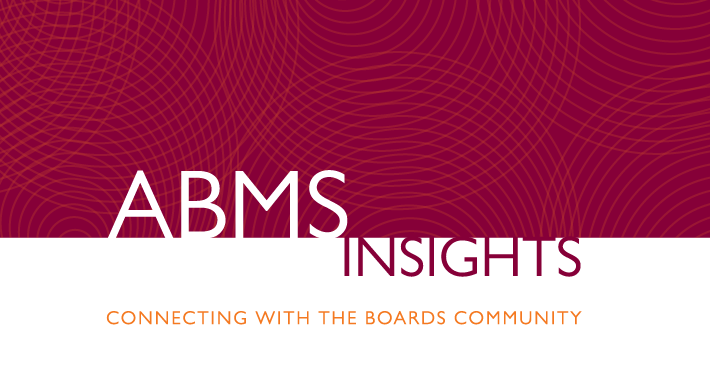 While many American Board of Medical Specialties (ABMS) Member Boards offer residents the opportunity to take an in-training examination (ITE), some offer them the opportunity to engage in self-assessment or quality improvement/performance improvement (QI/PI) activities.
The ITE serves multiple purposes. Among them are helping residents:
Assess their knowledge and skill level
Gauge their progress from year to year
Identify areas of strengths and limitations
Compare their own performance with national peer groups
"The primary purpose of the ITE is to help residents assess how well they are learning the fundamental knowledge and skills they need to become board certified specialists," said Greg Ogrinc, MD, MS, Senior Vice President of Certification Standards and Programs at ABMS. They can use the information to determine what areas they need to study further and develop self-directed learning. It also familiarizes them with the certifying exam. "Similarly, program directors can use the ITE results to develop individualized educational plans for specific residents as well as provide additional programmatic learning for all residents and evaluate whether their program is meeting its training goals," he added.
But some Member Boards also give residents the option to participate in self-assessment and/or QI/PI activities. "Engaging residents in these types of activities help them prepare for the initial certification exam and for participating in continuous certification following graduation," Dr. Ogrinc said. The following examples highlight these opportunities across the Member Boards.
As part of the American Board of Family Medicine's (ABFM) Resident Certification Entry Process, residents enrolled in a family medicine residency training program must complete self-assessment and QI activities prior to taking the initial certification exam. For the Self-Assessment components, residents can choose from 60-item, topic-specific Knowledge Self Assessments, quarterly items on a broad set of topics known as Continuous Knowledge Self-Assessments, or articles from ABFM's National Journal Club. Residents participate in a PI activity by using data from their resident continuity patient panel. Residents receive certification credits for completing these activities.
Pediatric residents can participate in any self-assessment or QI activity offered by the American Board of Pediatrics (ABP) for educational purposes. Those who participate in approved QI activities and submit an ABP attestation form, however, can earn credit that will be applied – shortly after they become certified by ABP – toward their first Maintenance of Certification cycle.
Physical medicine and rehabilitation residents can bank their QI activities in the American Board of Physical Medicine and Rehabilitation's database. Upon primary board certification, these activities will be applied to their first five-year cycle of continuing certification.
As a pilot program, the American Board of Radiology will make a voluntary self-assessment tool available to all 2022 residency graduates. Results will not be scored, but those enrolled in the pilot will receive feedback about correct answers, answer explanations, and references for further study.
"Encouraging residents to engage in self-assessment and QI/PI activities supports lifelong learning and professionalism," Dr. Ogrinc said. "As practicing physicians, these concepts translate into providing safe, quality patient care."