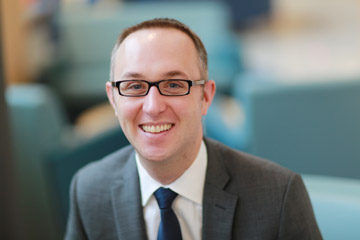 Daniel J. Schumacher, MD, MEd, Associate Professor of Pediatrics at Cincinnati Children's Hospital Medical Center, has continued scholarly pursuits years after his time as an American Board of Medical Specialties (ABMS) Visiting Scholar in the inaugural 2014–2015 class.
Since then, the educational modules Dr. Schumacher developed with staff at the American Board of Pediatrics (ABP) for his Visiting Scholars Program project have been launched. He also co-authored more than 14 studies published in peer-reviewed journals. Currently, Dr. Schumacher is entrenched in two studies examining entrustable professional activities (EPAs). Oh, and he is currently pursuing a PhD in medical education.
The ABP introduced the modules designed to address Lifelong Learning and Self-Assessment, Part 2 of ABP's Maintenance of Certification (MOC) program, in November 2017. The seven modules explain quality improvement (QI) principles and guide participants through QI steps such as gathering baseline data, developing an aim statement, and conducting plan-do-study-act cycles. They also elaborate on how to identify a gap in knowledge, use educational principles to address the gap, and create an intervention to fill the gap. By replicating the steps shown in the modules for an improvement project relevant to their own clinical environment, participants will have a completed application for a self-directed Improvement in Medical Practice (MOC Part 4) activity to submit to ABP. Diplomates could just participate in the modules to get MOC Part 2 credit, Dr. Schumacher said, but the goal is for them to submit an activity for which they could receive MOC Part 4 credit.
"Our target group is diplomates who don't feel like they had a lot of previous training or involvement in leading QI efforts either for themselves, their group, or their practice," he said. "Based on the comments we have received, we are reaching that group." To date, 204 diplomates have participated in the modules, each of which consist of one to three videos and embedded questions.
Although the content of the modules was finished by the end of his Visiting Scholars Program year, it took a while working with different vendors to create the videos, which feature animated ABP diplomates. Dr. Schumacher wanted to make the modules engaging as well as educational.
As a member of ABP's Education and Training Committee and the Accreditation Council for Graduate Medical Education's Pediatrics Milestone Project Working Group, it's not surprising that Dr. Schumacher's published studies focus on competency-based education (CBE) and assessment of physician performance across the continuum of training and practice. He also has lectured about the Milestone Project and CBE, both within and outside the pediatric community.
"I value collaborating with Dan as he is a tireless worker with a deep understanding of CBE," said Carol L.Carraccio, MD, MA, Vice President of Competency-Based Assessment at ABP. "His contributions around both QI and CBE are invaluable as the ABP tries to follow our North Star of improved health outcomes for children."
Dr. Schumacher's current research study focuses on the validity and reliability of EPAs, which describe the routine and essential activities physicians perform in practice. The ABP led the pediatrics community in developing the EPAs for assessing residents. There are 17 EPAs for general pediatrics and 9 to 12 EPAs for each of the subspecialties. Coupled with competencies and milestones, EPAs show promise for improving trainee assessment. In addition to Dr. Schumacher's study, other studies are looking to determine the added value of EPAs for the assessment of clinical competency. Just as the Denver Developmental Screening Test quantifies at what age a child should achieve a specific milestone, Dr. Schumacher expects his study to demonstrate at what stage of training a resident should achieve specific knowledge and skills. "In essence, the study will help us define the norms of resident development based on the criteria in the EPAs," he said.
The study involves 20 general pediatrics residency programs that vary in size across the country. To help improve the quantity and quality of data being collected, Dr. Schumacher added a QI element to the study and obtained ABP approval so that individuals who are meaningfully participating in it could apply to earn MOC Part 4 credit. "We saw this as a good opportunity to align the QI work people are already doing at their institutions by appropriately offering them MOC credit for that work," he said.
While this study won't be completed until spring 2019, Dr. Schumacher is already thinking about the follow-up one. "Next, we're going to do a qualitative study to find out what are the barriers to implementing and assessing EPAs and what were the facilitators to doing this work," he said. "This information will help us make recommendations for how to best implement the EPAs and use them to assess residents."
Dr. Schumacher is passionate about CBE and physician assessment because he sees it as the link between education and training efforts and providing high quality care to patients. "This is perhaps the most important connection for us to make as medical educators," he added, "but it is often overlooked."