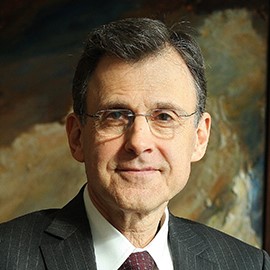 Partners HealthCare (Partners), an integrated health system founded by Brigham and Women's Hospital and Massachusetts General Hospital in 1994, has been an ABMS Portfolio Program Sponsor since 2011. During the past eight years, Partners has submitted 388 improvement efforts, in which nearly 3,000 providers were engaged. Currently, 163 quality improvement/practice improvement (QI/PI) efforts are in process.
When asked about this remarkable success, Robert Birnbaum, MD, PhD, Vice President for Professional Development & Implementation Science, said, "I believe a major key to our success has been having QI champions in the C-suite who helped to create a system-wide culture that promulgates QI. Another key has been to align our activities with our health system's priorities, which allows us to minimize administrative burden and offer appropriate incentives." At Partners, the Continuing Professional Development (CPD) office serves as the hub of the QI/PI efforts, publishing a newsletter and website to aid communication within the system. Physicians are encouraged to approach the CPD office with projects and work closely together to bring them to fruition. The CPD office compiles all QI/PI efforts throughout the system and enters them into the Portfolio Program's MOCAM system.
---
I believe the main reason for our success is that QI is not an 'add-on' or 'busywork' at Partners. It is an integral part of how we provide the very best care for our patients. —Robert Birnbaum, MD, PhD

---
Each year, Partners' Internal Performance Framework (IPF) committees collect and distill the QI/PI measures and then determine which ones align with the system's strategic plan and are general enough to impact all departments. Those measures are what Partners focuses on for the following year. For example, "responsible opioid prescribing" was featured last year. Each department developed measures to address issues around opioid prescribing within that department (e.g., screening and urine toxicity measurement).
The current system-wide IPF project is "patient/provider communication." One example of these efforts is within the Mass General Hospital Down Syndrome Program. While generally pleased with the quality and compassion of the providers' care, the parents of children five years and younger with Down Syndrome indicated that they felt the communication between the clinic and pediatric therapy teams could be improved. They reported issues with communication and duplication of services, both of which could lead to suboptimal care. To streamline communications and eliminate duplicative care, the team created a "Patient Passport" tool that parents bring to each of their child's appointments. Each provider reviews the document at the beginning of the child's appointment, adds her own notes to it, and returns it to the child's parents at the end of the appointment. Parent feedback is reviewed monthly, with an overall goal of improving satisfaction by 20 percent.
Another example of Partners' QI activities is "Improving Provider Communication at the Clinic to Inpatient Transition," a pilot project to improve communication between ambulatory and clinical care in gastroenterology at the Dana-Farber Cancer Institute. Inadequate communication had been influencing daily workflow and causing patient care delays, particularly during the vulnerable "handoff period," when patients are transferred between care teams. The team is planning to expand this pilot program beyond gastroenterology patients.
"When it comes down to it, I believe the main reason for our success is that QI is not an 'add-on' or 'busywork' at Partners," said Dr. Birnbaum. "It is an integral part of how we provide the very best care for our patients."
---
Read more Portfolio Program Sponsor Spotlights