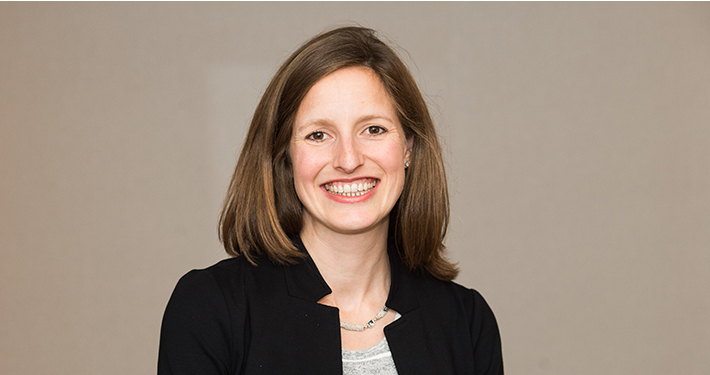 "The Visiting Scholars program was an opportunity for me to develop as a leader and gave me a broader view of how medicine is structured in the U.S. Without question, the program helped me to improve my leadership skills, which are critical as a physician, colleague, and researcher."
Regan W. Bergmark, MD
American Board of Otolaryngology—Head and Neck Surgery
Specialty: Otolaryngology—Head and Neck Surgery
When the American Board of Medical Specialties (ABMS) Visiting Scholars named Regan Bergmark, MD to its 2017-2018 class, it could not have predicted just how wise and far-reaching its investment would be.
"Thanks to the financial support received from the ABMS Visiting Scholar Program™, I was able to purchase de-identified health care utilization data from the U.S. Department of Health and Human Services," said Regan Bergmark, MD. "These state-level data sets were valuable for my original Visiting Scholars research project, but they have been absolutely priceless for follow-up projects that delve deeper into health care utilization and equity issues."
Dr. Bergmark's Visiting Scholars research project, Standardized Health Outcomes Measures: Utilization by Specialty, focused on how patient-reported outcome metrics were used by surgeons. She also examined how health care professionals think about the quality of care provided, how it can be better measured, and the role of ABMS Member Boards in this process. The project brought to light many issues around health equity—who gets access to what care and at what cost.
Health equity has been Dr. Bergmark's long-standing focus in medicine, advocacy, and research. "The inequity in our nation's health care system has always kept me up at night," said Dr. Bergmark. "Smart and hardworking people are everywhere, but opportunities for education, jobs, and quality medical care are not spread equally across all populations."
The search for solutions led Dr. Bergmark to further explore disparities in surgical care access for patients due to geography, race, economic status, language barriers, and insurance status. Using the original data and other tools, she and her research team published an impressive 20 papers in 2020. They will continue to use this original data set for the foreseeable future as an important baseline to assess change.
"By investing in data collection and analysis, the ABMS Visiting Scholars Program made it possible for a large research team to take a deep dive into the current state of the American health care system and identify disparities and establish targets for improvement," said Bergmark.
Dr. Bergmark noticed another unexpected benefit to having these compelling data sets. "Fortunately, we have an amazing diversity in students and residents today. Health equity hits close to home for many members of our team and working with this data has been a wonderful opportunity to train the next generation of rising surgeons in disparities research and make them passionate about creating change through research."
While she is grateful to the Visiting Scholars Program for its investment in her research, she is equally pleased with its commitment to her leadership development. "The Visiting Scholars program offered me an opportunity to develop as a leader and gave me a broader view of how medicine is structured in the U.S.," said Bergmark. "Without question, the program helped me to improve my leadership skills, which are critical as a physician, colleague, and researcher."
---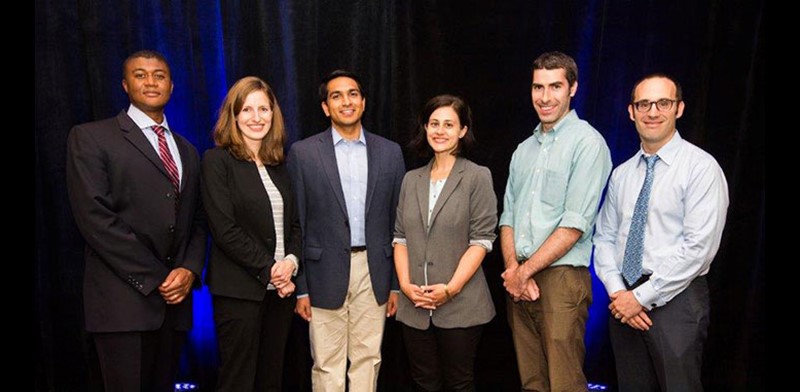 The 2017–2018 Class of Visiting Scholars
From left: Johnathan Bernard, MD, MPH; Regan Bergmark, MD; Souvik Chatterjee, MD; Shannon Martin, MD, MS; Martin Casey, MD, MPH; and Brian Garibaldi, MD
---
Dr. Bergmark has authored or co-authored more than 70 articles in peer-reviewed publications on such thought-provoking topics such as the variation in the geographic distribution of otolaryngologists; disparities in oral cancer screening; and the impact of COVID-19 on health disparities in otolaryngology.
In addition to her prolific research, Dr. Bergmark is a sinus and endoscopic skull base surgeon. She has advanced expertise in the evaluation and treatment of patients with sinonasal and skull base disorders, including chronic sinusitis, nasal polyps, tumors of the sinuses or nasal passage, and patients with sinus disorders requiring revision surgery. Dr. Bergmark works closely with physicians in related fields such as allergy and immunology, pulmonology, neurosurgery, and oncology to provide compassionate multidisciplinary care to her patients.
What's next? Dr. Bergmark sees hope on the horizon. The COVID-19 pandemic brought the nation's disparities in health care access into sharp relief. "Suddenly, the tragic health care inequities in our nation were laid bare and everyone—not just health care professionals on the front line—saw the flaws in our system clearly. Right now, you can feel the urgency throughout the nation to improve how our health care system works and make it easier for all patients to have timely access to high-quality care."
Dr. Bergmark sees an important role for the ABMS Member Boards in making systemic change. "Without question, there are many bright spots of innovation in our health care system, but there also are systemic failures on a population level that require strong leadership to effect change. Though their very nature Member Boards have a wide reach, and with the leadership and coordination of ABMS, they can identify and address critical issues, such as equity and the competency of the physician workforce."
Dr. Bergmark is a graduate of Stanford University and was a John Gardner Public Service Fellow. She earned her medical degree from Harvard Medical School and received the Hollis Albright Award for Excellence in the Surgical Sciences, presented to one Harvard Medical School student annually. After her internship in general surgery at Brigham and Women's Hospital, she completed residency training in Otolaryngology–Head and Neck Surgery at Harvard Medical School–Massachusetts Eye and Ear. She then completed fellowship surgical training in Rhinology and Anterior Skull Base Surgery at Harvard Medical School–Massachusetts Eye and Ear Infirmary.
Certified by the American Board of Otolaryngology – Head and Neck Surgery, Dr. Bergmark is a sinus and endoscopic skull base surgeon at Brigham and Women's Hospital and the Dana-Farber Cancer Institute at Harvard Medical School. She is a principal investigator at the Center for Surgery and Public Health, which is a joint initiative of Brigham and Women's Hospital, Harvard Medical School and the Harvard T.H. Chan School of Public Health.
Read more Scholars Impact stories.
Read more about the Visiting Scholars program.