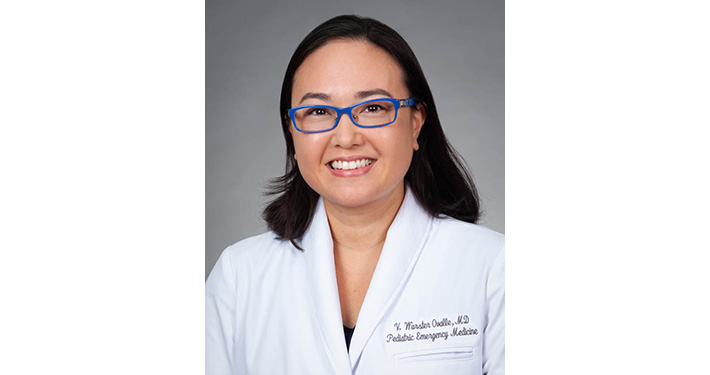 "By supporting my research and providing me with the scaffolding and mentorship to pursue a career in medical education, the ABMS Visiting Scholars Program exceeded my expectations."
Victoria Wurster Ovalle, MD | American Board of Pediatrics
Specialty: Pediatrics
Subspecialty: Pediatric Emergency Medicine
According to pediatrician Victoria Wurster Ovalle, MD, the ABMS Visiting Scholars Program has had far-reaching, positive effects on her career.
"By supporting my research and providing me with the scaffolding and mentorship to pursue a career in medical education, the ABMS Visiting Scholars Program exceeded my expectations," said Dr. Wurster Ovalle. "Thanks to the program, I have connected with colleagues and professionals across many specialties that are experts in assessment, competency-based education, quality improvement, and patient safety."
Support from the Visiting Scholars Program allowed Dr. Wurster Ovalle to devote her second and third years of fellowship to research. Her ABMS Visiting Scholars research project, Assessing the Implementation of the Behavioral/Mental Health Entrustable Professional Activity (EPA) for General Pediatrics, was published in Academic Pediatrics. This work led to a follow-up study published in Pediatric Emergency Care in 2021, entitled Psychiatric Education for Pediatric Emergency Medicine Fellows: Should We Be Doing More?
Dr. Wurster Ovalle also has published research on specific pediatric health topics, including systemic lidocaine toxicity, emergency department utilization, social risk screening, and addressing severe unintentional injuries at well-child visits.
As part of the Visiting Scholars Program, Dr. Wurster Ovalle participated in monthly webinars with national thought leaders, presented her project at the annual ABMS Conference, and engaged with ABMS Member Board leadership.
"While all of these opportunities were valuable, I particularly enjoyed being able to meet and interact with the other ABMS scholars as well as leaders of professional organizations such as the American Medical Association and the Accreditation Council for Graduate Medical Education," said Dr. Wurster Ovalle. She fondly recalls meeting David Nichols, MD, MBA, the President and CEO of the American Board of Pediatrics, and discussing her research on entrustment and psychiatric education for pediatrics residency programs.
---
2018-2019, from left: Victoria Wurster Ovalle, MD; Brenessa Lindeman, MD, MEHP; Brian George, MD, MA; Kevin Cullison, MD; Caitlin Hicks, MD, MS; and Amy Cizik, PhD, MPH. Not pictured: Rodney Omron, MD, MPH
---
While her passion is conducting research to improve health care quality, Dr. Wurster Ovalle really loves the opportunity to work with medical students and residents on every shift. "They are bright, energetic, and keep me on my toes clinically. I look forward to becoming more involved in undergraduate and graduate medical education research and mentoring opportunities through my positions with the University of Central Florida and Nemours Children's Hospital."
Dr. Wurster Ovalle urges early-career physicians and researchers to apply to the ABMS Visiting Scholars Program. "If you are interested in broadening your current view and understanding of board certification and would like to meet with the national leaders and organizations who influence medicine and medical care in this country, this program is for you."
Dr. Ovalle received her medical degree from the Vanderbilt University School of Medicine and was a general pediatric resident and a fellow in pediatric emergency medicine at the Cincinnati Children's Hospital Medical Center.
Certified by the American Board of Pediatrics, Dr. Ovalle is an Assistant Professor of Pediatrics at the University of Central Florida College of Medicine. She works part-time as a pediatric emergency medicine physician at Osceola Regional Medical Center and Nemours Children's Health System.
Read more Scholars Impact stories.
Read more about the Visiting Scholars program.