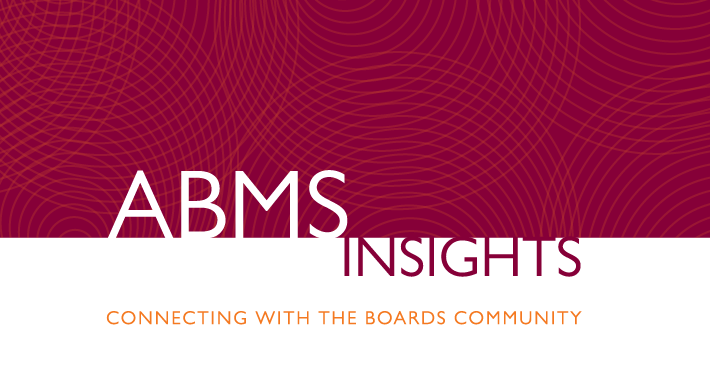 Most residents first encounter an American Board of Medical Specialties (ABMS) Member Board when they are applying for certification at the end of training, but some Member Boards are looking to make that interaction occur sooner. A few boards are advancing early resident engagement by forming advisory panels, conducting routine surveys, and even inviting residents to attend special meetings. Following are examples of how some boards are reaching out sooner to residents to familiarize them with all that board certification has to offer, and better support residents and fellows through the certification process.
The American Board of Emergency Medicine (ABEM) had limited direct communication with residents until it formed the Resident Ambassador Panel in 2020. Currently, three members are serving a two-year term and the new cohort will be named this month. One member will stay on to serve as a mentor to the incoming panel. The residents meet at least twice a year virtually and are provided ongoing updates and activities. Members, along with ABMS Visiting Scholars and National Academy of Medicine Fellows, also attend the Board of Directors' summer meeting virtually to discuss their activities. To date, they have provided feedback on ABEM communications about the certification process and family leave policy as well as the ABEM website and resident-focused presentations. This year, residents wrote an article about steps in the certification process, which was published on the ABEM website and in multiple emergency medicine organization newsletters, and participated in a companion video. The members represent ABEM at emergency medicine resident society leadership meetings as well as disseminate board news and updates to their colleagues and on social media channels. The panel has served as a conduit for more effective communication with residents and an outlet to inform ABEM of critical topics in which residents are interested.
The American Board of Orthopaedic Surgery (ABOS) recently announced the second group of orthopaedic surgery residents who will serve on the ABOS Resident Advisory Panel. Established in 2021, the panel consists of eight residents, each of whom serves a two-year term. The terms were purposely overlapped to maintain continuity while introducing fresh insights. The panel meets quarterly and ABOS provides funding for members to attend an American Academy of Orthopaedic Surgeons (AAOS) meeting in person, subject to COVID-19 restrictions. The latter gives members an opportunity to network with ABOS Board members, board certified orthopaedic surgeons, and residents. Working with the ABOS' Graduate Medical Education and Communications committees, the panel is charged with identifying and working on yearly projects that will benefit orthopaedic residents across the country. The first project involves working with the AAOS' Resident Assembly to better communicate the newly developed linking program between the AAOS' Orthopaedic In-Training Examination® and ABOS Part I Examination.
The American Board of Pathology (ABPath) established its Resident and Fellow Advisory Committee in 2019. The committee is comprised of 10 to 12 members; in 2022, there are five fellows and six residents across various training years. Initially, the committee held virtual monthly meetings, but they will begin meeting quarterly starting this year. Engaging with the members has revealed ways to better communicate with residents and provide them guidance on the application and exam administration process. This was especially helpful when ABPath transitioned from using its in-house exam center to remote exams and now to commercial testing centers. Input from the committee also was helpful in adapting training policies during the height of the COVID-19 pandemic. Moving forward, ABPath will be obtaining feedback from the members as it develops new initiatives and creates a new website. Members act as ambassadors for the board, communicating important information and updates to their peers. They appreciate the opportunity to provide input on ABPath processes and materials, but also to become acquainted with ABPath staff and the chief executive officer who chairs the committee.
The American Board of Radiology (ABR) has four Initial Certification Advisory Committees, one for each specialty. Between nine and 15 members serve two- or three-year terms across the committees. The goal is to meet at least twice a year in person. Members convene ad hoc virtual meetings in between the in-person meetings. ABR also will host longer meetings at its headquarters in Tucson for all the committees in the future. The board is using feedback from the members to make the initial certification process as manageable as possible. Examples include updating its residency leave policy as well as revamping exam scoring notification process and posting the results more quickly.
Some Member Boards have started to routinely survey residents. In 2014, the American Board of Family Medicine (ABFM) began administering a questionnaire on practice intentions to all residents when they register for their initial certification exam. In collaboration with the Association of Family Medicine Residency Directors, ABFM administers and analyzes the Family Medicine National Graduate Survey that is completed by residents at the time of graduation and then again three years into practice. This is the only specialty-wide graduate survey and the data from it are provided back to the programs annually, including a comparison of each programs' findings with national aggregate data. ABFM periodically hosts virtual focus groups with residents to discuss such issues as residency redesign initiatives and updates to the MyABFM Portfolio and ABFM websites. The board also solicits input from residents who have been Pisacano Scholars and residents attending the American Academy of Family Physician's National Conference for Students and Residents. In 2020, ABFM created a Residency Toolkit for Program Directors and staff to provide information they can use to inform their residents about the importance, value, and process of becoming and maintaining board certification. With assistance from residency directors, ABFM is developing an outreach program to provide regular board updates to residents. The American Board of Preventive Medicine (ABPM) is undertaking a Preventive Medicine Awareness initiative, the first phase of which is a survey directed to medical students and residents as well as practicing physicians. Future phases of this initiative will likely include further outreach to residents.
Other Member Boards have invited residents to attend special meetings. ABFM invited residents to participate in its Starfield Summit IV: Re-envisioning Family Medicine Residency Training in December 2020, where 20 percent of attendees were either residents or medical students. The American Board of Psychiatry and Neurology (ABPN) invites residents and fellows to participate in its Crucial Issues Forums, where important psychiatry and neurology topics are discussed. The board also offers the Senior Resident Administrative Fellowship Program, for which one psychiatry resident and one neurology resident are selected each year to spend three months at ABPN's offices. They become familiar with the structure and function of ABPN, major regulatory and professional organizations in psychiatry and neurology, and crucial issues confronting the two disciplines. In addition to attending various meetings, and networking with national leaders in the specialty, the residents complete a self-selected research project that is relevant to ABPN and suitable for presentation and publication. This past February, ABPM hosted its first Online Preventive Medicine Program Director Summit, which will likely become an annual event. ABPM offered three identical sessions, conducted by its executive director who provided updated information to residency and fellowship directors to help their students during the upcoming application cycle. ABPM also offered updates on its continuing certification program, since most of the program directors are also board certified by ABPM.
Many Member Boards engage with specialty-specific organizations for residents and program directors. They are represented at meetings, with leadership often presenting at them. Some boards set up informational booths at the larger meetings. Several boards, such as the American Board of Ophthalmology and ABFM, collaborate on curriculum development and innovations in residency education. The American Board of Internal Medicine, which is a member of the Internal Medicine Educational Advisory Board, works closely with the Alliance for Academic Internal Medicine, Association of Program Directors in Internal Medicine, and the training program directors' committees of most societies associated with its subspecialties. The American Board of Otolaryngology – Head and Neck Surgery and ABEM offer programs for speaker requests for information about board certification, graduate medical education, and specialty-specific topics of interest.
Whether it's through an advisory panel, periodic survey, focus group, special meetings, or attendance at society and professional meetings, Member Boards are engaging with residents earlier on to start an open dialogue with future physicians and forge a relationship that will last throughout their careers.
---
ABFM's Resident Certification Entry Process
ABFM starts engaging directly with residents at the beginning of residency training. When a family medicine residency program creates a resident profile in the Resident Training Management System, an automated welcome email is immediately sent to the resident providing an ABFM identification number and a link for setting up the trainee's physician portfolio. In 2012, ABFM implemented the Resident Certification Entry Process requiring residents to complete self-assessment and quality improvement activities prior to taking the initial certification examination. ABFM established this process to provide residents with a similar experience to that of physicians participating in continuing certification, to use ABFM self-assessment activities to help them prepare for the initial certification exam, and to support their learning about how to do quality improvement in practice. Residents have expressed appreciation for the opportunity to learn more about certification during residency – its purpose, value, and process – and feel better prepared after graduation for participating in continuous certification. They also like having access to their own certification portfolio, enabling them to track their progress and view the menu of activities from which to select the most appropriate ones.