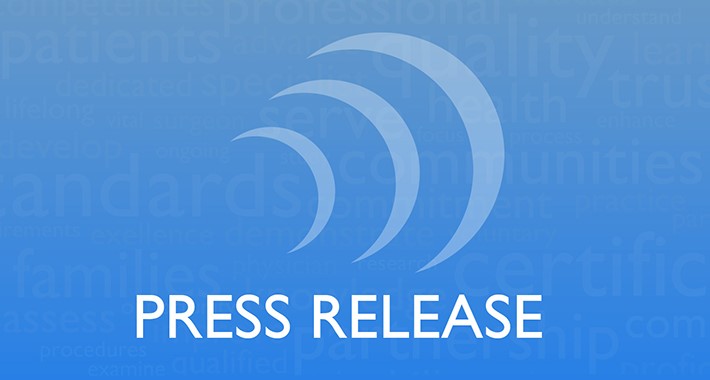 ABMS Media Contact: Susan Morris
AVP Communications
(312) 436-2624
smorris@abms.org
Enhanced certification display now available to patients determining if a physician or medical specialist is ABMS board certified
CHICAGO – June 20, 2023 – The American Board of Medical Specialties (ABMS), the leading not-for-profit organization overseeing certification of physicians and medical specialists in the United States, has made important updates to its Certification Matters website. Created as a service for patients and their families to learn about board certification and its importance to quality care, the site now provides additional information to individuals seeking to determine if their physician or medical specialist is board certified by an ABMS Member Board.
Visitors to CertificationMatters.org will have access to enhanced information regarding a physician or medical specialist's board certification, including:
Current status for each medical specialty or subspecialty certification
The first year of certification
Most recent year of certification
Indication of active participation in a continuing certification program
In addition to more information about a physician or medical specialist's certification, the new display offers an improved user experience, including:
Auto-population of search menus for easier access to information
Mouseovers that display explanations for each field
Expanded set of definitions and a "Frequently Asked Questions" section
An improved display format that presents information in a clear and concise manner
"Choosing a physician or medical specialist is an extremely important health care decision for patients and family members," stated ABMS President and Chief Executive Officer Richard E. Hawkins, MD. "Today's patients have a greater expectation for quality. This website provides a valuable service, allowing patients to be certain their physician or medical specialist is board certified, indicating expertise in a specific area of practice. The updated information, focused on offering greater transparency, reflects recommendations from the Continuing Board Certification: Vision for the Future Commission and from the public. It provides even greater detail regarding certification which makes the tool more helpful in the selection process."
In addition to detailed certification information, the website offers frequently asked questions in an easy, drop-down format making the search process more user friendly. It also offers a new "About" section that explains the value of ABMS board certification, as well as a "Resources" page with suggestions for patients to consider when choosing a new physician or medical specialist, such as questions to help determine if their physician or medical specialist is a good fit for them or their family.
ABMS member board certification is a voluntary specialty credential that indicates a physician or medical specialist's proficiency in a particular specialty area of medicine. Specialty certification requires completion of additional training and evaluation beyond that required for licensure. Additionally, the ABMS credential is recognized as the premier standard and assessment system for the designation of specialty and subspecialty competence in medical and surgical disciplines by hospitals, health insurance plans, quality improvement experts, and patients.
---
About ABMS
Established in 1933, the American Board of Medical Specialties (ABMS) is responsible for the creation of standards overseeing physician certification in the United States. Dedicated to improving the quality of care to the patients, families and communities they serve, the 24 ABMS Member Boards develop educational and professional standards and programs of assessment to certify physicians and medical specialists. More than 975,000 physicians and medical specialists are certified by one or more of the ABMS Member Boards in one or more of 40 specialties and 89 subspecialties. For more information about ABMS, visit abms.org or call (312) 436-2600.