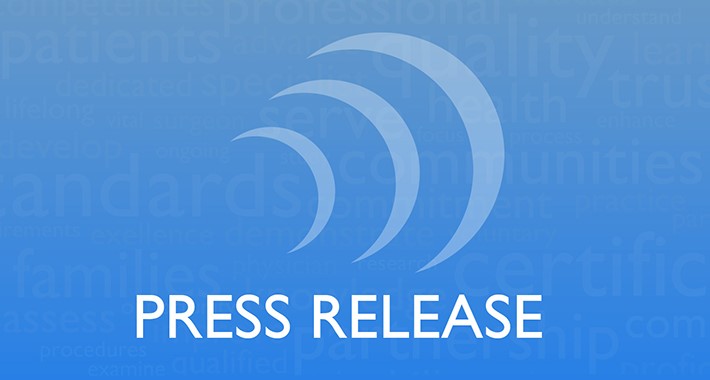 Contact:
Susan Morris, ABMS
(312) 436-2624
smorris@abms.org
CHICAGO – May 16, 2023 — The American Board of Medical Specialties (ABMS), the leading organization that oversee the standards for physician board certification in the United States has named Martin V. Pusic, MD, PhD to serve as then new Director of the Research and Education Foundation (REF). In this role, Dr. Pusic will provide content leadership and guidance for ABMS programs, initiatives and research aimed at advancing certification as well as offer direct consultation to similar efforts conducted by the ABMS 24 Member Boards.
Dr. Pusic is an Associate Professor of Pediatrics and Emergency Medicine at Harvard Medical School, serving as Senior Associate Faculty for Boston Children's Hospital and Scholar-in-Residence, Brigham Education Institute, Brigham & Women's Hospital in Boston, MA. He previously was an Associate Clinical Professor, Emergency Medicine & Pediatrics at New York, University following a series of faculty positions at Columbia University, University of British Columbia, McGill University, and Johns Hopkins Children's Center in Baltimore, MD. In addition to his academic roles, he also held a wide range of clinical appointments in Emergency Medicine at each of these institutions and is board certified in Pediatric Emergency Medicine by the American Board of Pediatrics for whom he serves as a Board Examiner.
Dr. Pusic completed his Premedical Studies in Physiology at the University of British Columbia where he went on to receive his medical doctorate. He obtained a Master of Arts in Medical Informatics from Columbia University and received his Doctor of Philosophy in Cognition and Learning from Teacher's College at Columbia as well.
Throughout his career he has been active in a variety of national professional societies including the Academic Pediatrics Association, American Educational Research Association and is currently a member of both the Emergency Cardiac Care, Education Science & Programs Subcommittee and the Pediatric Emphasis Group for the American Heart Association and is also a member of the Technology Enhance Learning Committee for the Association for Medical Education in Europe. He also served as the Co-chair of the Master Adaptive Learner Interest Group of the American Medical Association (AMA) Accelerating Change in Education Consortium as well as the Co-chair of the Program Evaluation Committee for the Consortium and is the current President of the Society for Directors of Research in Medical Education. Dr. Pusic has been elected member of the Academy of Master Surgeon Educators of the American College of Surgeons and is a member of the American Pediatric Society which recognizes achievement in pediatric research.
He has been the recipient of grants to support his vast research projects and has served as an investigator (often the lead) in more than 100 studies focused on learning analytics, and the role and impact of research, data and informatics on medical education and learning. Dr. Pusic's work has been published in peer and non-peer reviewed publications, he has written 20 book chapters and has served as a reviewer and editor presented at meetings across the globe.
Founded in 1971 the REF identifies and establishes partnerships with academic health centers, universities, hospitals and health systems and other health care organizations to develop and promote research programs. It is focused on conducting and assessing educational initiatives to improve physician performance through the certification standards that are in place to improve health care and keep physicians and medical specialists up to date. The REF also guides and facilitates national and international research on certification and develops works to identify and obtain funding to support these research initiatives.
About ABMS
Established in 1933, the American Board of Medical Specialties (ABMS) is responsible for the creation of standards overseeing physician certification in the United States. Dedicated to improving the quality of care to the patients, families and communities they serve, the 24 ABMS Member Boards develop educational and professional standards and programs of assessment to certify physicians and medical specialists. More than 975,000 physicians and medical specialists are certified by one or more of the ABMS Member Boards in one or more of 40 specialties and 89 subspecialties. For more information about ABMS, visit abms.org or call (312) 436-2600.