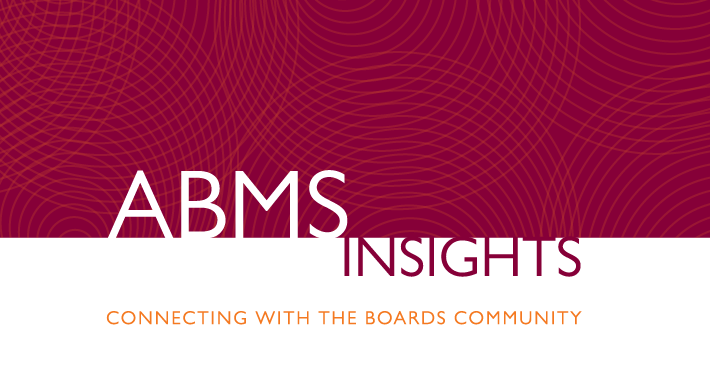 First Board using CertLink to make this change
The American Board of Physical Medicine and Rehabilitation (ABPMR) recently announced that it will implement longitudinal assessment using the innovative technology platform known as CertLink® in 2020 to replace its 10-year, secure Maintenance of Certification (MOC) Examination. ABPMR is the first board using CertLink to move from a pilot to a permanent program, joining other Member Boards of the American Board of Medical Specialties that have transitioned to longitudinal assessment options using different platforms.
The announcement came after ABPMR completed a one-year pilot to determine the success of longitudinal assessment. ABPMR considered four outcome variables: participants' performance on the MOC Examination, performance in CertLink, performance on "clone" questions, and user satisfaction. The data from the pilot show that the ABPMR longitudinal assessment was successful in all four outcomes, noted Mikaela M. Raddatz, PhD, ABPMR's Senior Psychometrician.
Regarding knowledge retention and learning, the ABPMR CertLink pilot showed that:
Diplomates who participated in the longitudinal assessment pilot performed significantly better on the MOC Examination than those who did not participate in the pilot. Existing research indicates that questions administered often and spaced out in time promote better retention of information.
Participants who read the critiques performed better on their second attempt to answer the question. The critiques are short paragraphs that explain why the right answer is correct and the distractors are incorrect, placing this information within the larger context of the topic. They are part of CertLink's built-in feedback, which has been shown to be a crucial aspect of learning from assessments.
Physicians performed better on the clone questions administered within the MOC Examination than they did within the CertLink platform. Clone questions, which assess the same content area and are similar to the primary questions, are administered in specific time intervals to promote learning. The ABPMR pilot was designed to include clone questions both in the longitudinal assessment and on the MOC Examination. The comparison analyses revealed evidence of learning and retention. Read more about the pilot outcomes.
ABPMR also surveyed the 400 diplomates who participated in the CertLink pilot; 344 responded to the user satisfaction survey. Regarding user satisfaction:
99 percent of participants agreed or strongly agreed that the platform is easy to learn and use
94 percent of participants agreed or strongly agreed that longitudinal assessment helped them identify gaps in their knowledge
97 percent of participants agreed or strongly agreed that the critiques and references presented after each question (explanations of why the correct answer is correct, with citations) helped them learn
92 percent of participants agreed or strongly agreed that longitudinal assessment will help them keep current
93 percent of participants agreed or strongly agreed that using a longitudinal assessment process, such as CertLink, adds value to their Board Certification Read additional survey results.
"We've been optimistic about longitudinal assessment since before the pilot began, so to see the CertLink pilot participants affirm its value is very exciting," said ABPMR's Executive Director Carolyn Kinney, MD. She also acknowledged the volunteer participants for agreeing to take the MOC Examination in February instead of opting to wait until the fall, making it possible to accelerate the CertLink pilot, which began last spring.
The transition to longitudinal assessment will allow diplomates flexibility. All ABPMR diplomates maintaining primary certification in Physical Medicine and Rehabilitation will be able to access CertLink in January 2020. Diplomates whose certificates expire in 2020-2023 have the option of either satisfying their Assessment of Knowledge, Judgment and Skills requirement by meeting a CertLink participation quota or taking the MOC Examination by the last administration in 2020. Diplomates who are at least five years away from certificate expiration (2024 and later) will enter a CertLink assessment cycle five years prior to their certificate expiration date. Read more information on the new CertLink pages on ABPMR's website.
To date, there are more than 9,000 participants who have answered 500,000-plus questions across the seven CertLink Boards.
© 2019, American Board of Medical Specialties.
Read the Latest Issue of the ABMS Insights Newsletter